mainblog-section
A systematic approach to knowledge transfer is vital in the enterprise. It can provide an up-to-date repository of existing knowledge that can be accessed and expanded by new and longer-term employees. And it ensures that essential knowledge is retained after employees leave the company.
Let's review the basics of knowledge transfer and knowledge transfer plans, how modern knowledge management systems have evolved, and ways you can apply these principles in your organzation to drive innovation, improve efficiency and accelerate your sales cycles.
What Is Modern Knowledge Transfer?
Knowledge transfer is the process of sharing information from one part of an organization to another, typically for solving problems or working toward a goal more efficiently. It's an essential element in any knowledge management strategy.
Historically, these systems have focused on building documentation for centralized storage. They weren't always easy to use for the experts contributing to them, much less the people who needed to access that information.
Modern knowledge management systems are designed to help you move beyond mere documentation of knowledge and toward seamlessly capturing real-time knowledge in the flow of work and putting it to work across the enterprise.
Who Benefits From Modern Knowledge Transfer?
While knowledge transfer is essential across organizations and industries, modern knowledge transfer can be especially beneficial for sales teams, help desks and research and development (R&D) by providing critical, time-sensitive knowledge to teams quickly.
Sales Teams
For sales teams, effective knowledge transfer can improve sales efficiency, leading to a higher volume of deals and accelerated sales cycles. Inevitably, customers will have questions for your sales team that require additional information. With a modern knowledge transfer system, your team can quickly respond to the customer's request with relevant information. Knowledge management systems can also improve internal sales effectiveness by creating a way for high-performing sales reps to share best practices with the team.
Help Desks
Help desks can also enjoy wide-ranging benefits from modern knowledge transfer systems through by reducing ticket volumes for standard, repeatable questions. Such tickets can be easily resolved or even prevented if there is access to readily available knowledge. When your employees can access on-demand answers to common questions, your subject matter experts are freed up to be more available for tougher or unique challenges. This has benefits both for overall cost control and employee retention.
R&D Teams
Modern knowledge management platforms can also improve R&D efforts by accelerating innovation and time to market. Today, many R&D teams are dispersed, making communication and collaboration between teams more difficult and creating "micro silos" that prevent knowledge transfer. Modern knowledge management improves timely access to technical information between colleagues, saving time on duplicated work and shortening innovation cycles.
Knowledge transfer systems can streamline development time by reducing the time spent "reinventing the wheel" or searching for answers.
Modern Knowledge Management Examples
Dräger
Dräger, an international medical and safety technology company, creates products that can literally save lives. But, survey responses indicated that their salespeople were spending far too much time searching for information and internal experts instead of selling and working with customers. The company partnered with Starmind to provide faster access to the knowledge that teams need, identify experts to help spread the knowledge-transfer workload and ensure each question only needed to be answered once. Read the full case study.
Swisscom AG
Swisscom AG, a major information and communications technology provider in Switzerland, wanted to develop a modern, innovative open-book working culture. With nearly 20,000 employees, it was imperative to find a way to easily share tacit knowledge. Swisscom AG partnered with Starmind to provide its team with a companywide tacit knowledge platform powered by artificial intelligence (AI). Read the full case study.
PepsiCo R&D
PepsiCo R&D, a division of an American multinational food and beverage corporation, needed a more efficient way to connect team members with the knowledge to develop and launch products faster. Beyond the need for a greater speed to market, the way the company worked had changed and team members were more separated than in the past, making it a more difficult challenge to communicate and share knowledge efficiently. The company partnered with Starmind to create a more modern process for collaboration and knowledge sharing. Read the full case study.
How to Encourage Effective Knowledge Transfer
Effective knowledge transfer requires processes and technology that make it easy for everyone to contribute knowledge and access it.
Foster a Culture of Openness
People need a safe place to ask questions at work, and they want a place to share their knowledge, research has confirmed.
Encourage an environment of knowledge-sharing by making knowledge sharing part of your company values. Encourage feedback from employees so you have a better understanding of where you can improve your system and build on success.
As you build this culture, keep in mind that hierarchies and assumptions about who should speak up and or fears about not knowing something can sometimes hold people back. Help your team members overcome those hesitations by offering a way to raise questions anonymously.
Upgrade Your Knowledge Management Platform
Knowledge management systems aren't uncommon within enterprise organizations, but adoption and outcomes have often been disappointing.
Assessing the processes and technology you already have in place is a crucial first step toward effective knowledge transfer at your organization. This helps you understand your knowledge flow and discover gaps to fill.
And you're very likely to discover big gaps: Up to 80% of knowledge within an organization is undocumented or intangible, which is why the old style of knowledge management platform that focused on documentation falls short.
Modern systems encourage capturing knowledge in the flow of work, and real-time employee knowledge sharing allows your team to continue to access and build upon existing knowledge through interactions with their colleagues.
Adopt a knowledge management approach that makes critical information readily available to everyone to increase productivity, efficiency and overall employee satisfaction. This can help establish greater communication and knowledge sharing between departments, break down knowledge silos and encourage cross-functional collaboration.
What Is a Knowledge Transfer Plan?
A knowledge transfer plan provides the framework for how an organization shares knowledge. These plans help organizations capture and store existing knowledge and make it available on demand. Uses include streamlining onboarding processes and retaining valuable knowledge without it being tied solely to individual employees.
There's a good chance your organization already has a knowledge transfer plan, but when was the last time someone reviewed and updated it?
How to Create a Knowledge Transfer Plan
The process for creating a knowledge transfer plan can vary based on the needs and goals of your organization, but the fundamental steps can be broadly applied across industries.
Identify and Capture Knowledge
The first step in creating an effective knowledge transfer plan is to determine what sources of knowledge your organization has and how that knowledge will be collected. Identify subject matter experts. Focus on the unique and distinct knowledge these experts have. Consider this question: If your most valuable team members left the organization, what gaps in knowledge would they leave behind?
Once you've identified this knowledge, you'll need to establish a way to capture, store and share it efficiently. This process should be sustainable and not place unnecessary admin burdens on your team. Avoid trying to obtain all of your organization's knowledge at once. Instead, integrate knowledge sharing into regular workflows that are consistently updated.
Set Clear Goals
When establishing a knowledge transfer plan, it's important to manage expectations and set clear goals for the initiative. Every organization's challenges and needs are unique, so you'll need to determine what a successful knowledge transfer plan looks like for your organization and how you'll identify measurable results.
While there's not a standard metric for evaluating knowledge transfer performance, you can establish benchmarks and goals based on your organization's overall need for knowledge transfer. This can help you identify knowledge gaps, as well as other challenges and achievements as they relate to knowledge sharing.
Knowledge Transfer Platform Checklist
After you've identified and determined how you'll collect knowledge, and you've set measurable goals, it's time to choose a knowledge transfer platform.
Look for a platform with these features:
Runs automatically, so knowledge is always relevant. Keeping knowledge up-to-date includes discarding information that is outdated.
Integrates into

your current workplace systems

, so employees don't need to leave an app they're in to search for knowledge. Instead, knowledge is brought to them.
Harnesses knowledge through AI in an ethical, appropriate way.
Offers access to FAQs immediately, while routing novel issues to the best experts.
Retains tacit knowledge.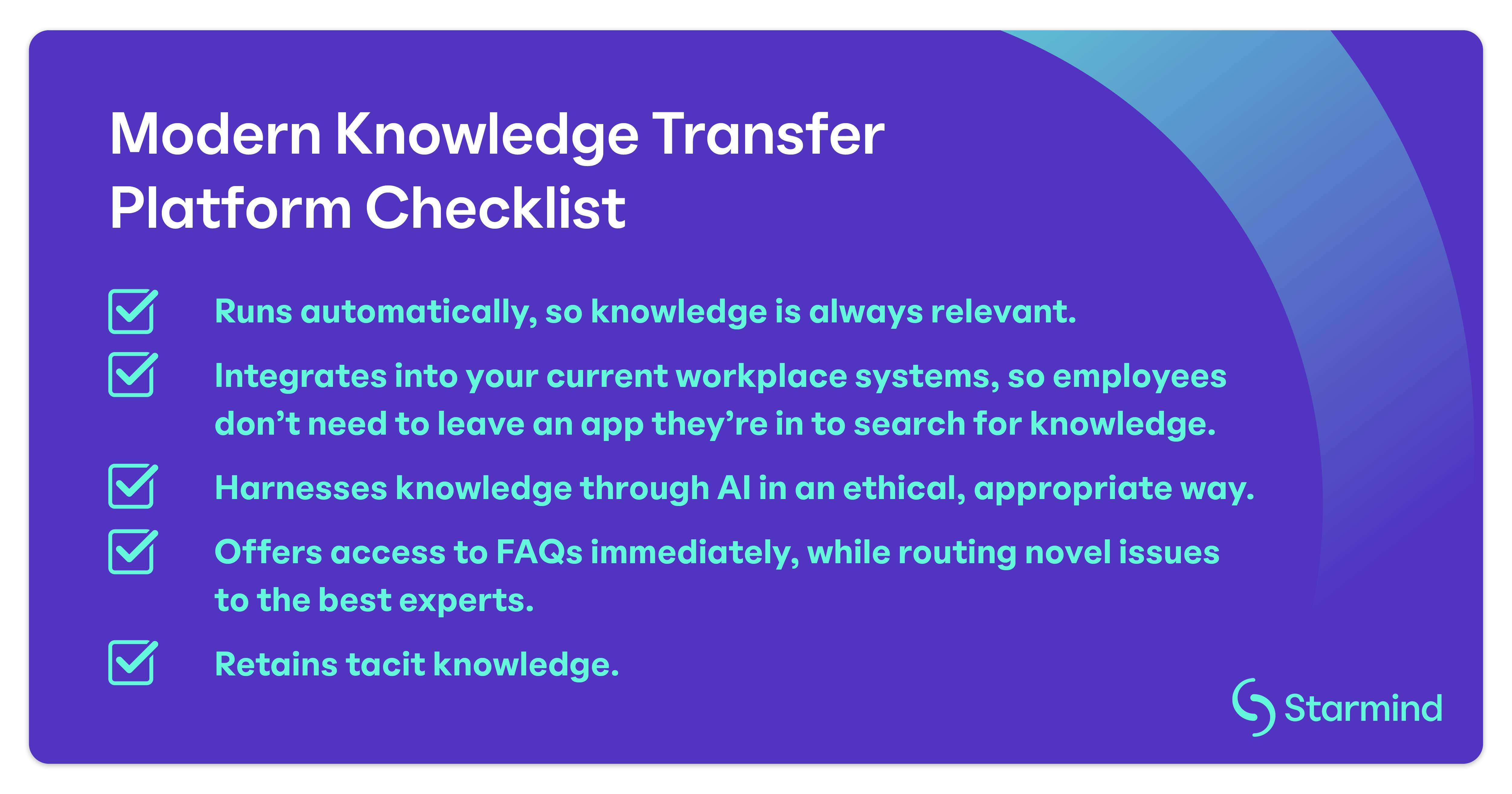 Find Support for Your Knowledge Transfer Plan
The primary goal of knowledge management is to improve efficiency and productivity while effectively managing the knowledge and experience of employees to increase the workforce's overall knowledge.
By developing a knowledge transfer plan, you can create a culture that values learning and collaboration while continuing to collect and build upon your organization's knowledge.
Remember, knowledge management isn't a static project. As your company evolves and grows, your knowledge and experience can be captured and used to scale with it.
Connect with our team today to learn more about how a modern knowledge management platform can improve your organization's knowledge transfer efforts.
Sign up to receive latest stats, insights and events
Speak to an expert talk
We're always ready to help, with support tailored to your business needs. Schedule a call with one of our team to:
Learn more about how Starmind can connect knowledge across your business.
Discover the use cases that best fit your needs.
See how you can bring all of your company's knowledge into one central platform.
Discuss your bespoke pricing package.
My rich text default content
My rich text default content