mainblog-section
How do great businesses keep everything moving? With the help of dedicated teams working behind the scenes to keep operations running smoothly and address internal questions. These teams depend on subject matter experts who use your internal helpdesk ticketing system to address the needs of their colleagues or customers.
When your helpdesk is at its most efficient, issues are resolved quickly so teams can get back to work. But inefficiencies, including poor knowledge management, can cause delays beyond just providing information to co-workers. Customer service teams might have to resolve additional issues because of missing or incorrect information. Employees can become frustrated with their inability to find answers. Entire projects can be thrown off schedule.
Learn how an internal ticketing system functions, what separates it from other ticketing software, which features you should consider and how to improve your management of these systems.
What Is an Internal Ticketing System?
Internal ticketing systems and the teams that manage them can be referred to by multiple names. Broadly speaking, service desks evolved from helpdesks to move beyond resolving issues to also assisting with requests for service. However, many businesses use both terms interchangeably.
Regardless of how your business labels internal support teams, they likely use internal ticket systems to communicate and connect with employees. When employees (or customers) need assistance, they can use these systems to submit requests to support teams, who communicate directly within the system until the ticket is closed.
For organizations without an internal ticketing system, addressing and resolving issues can be chaotic. These organizations often lack processes and documentation related to ticketing, leaving employees unsure of where to find assistance or how to ask for help. Repetitive issues can become a problem because the resolutions to these common requests have been forgotten or missed. Employees struggle to share knowledge or experience that could help their co-workers.
How Does a Ticketing System Work?
Most service or support tickets are submitted through an online platform such as a web portal or mobile app. Users can begin these requests by providing the highest possible level of detail about the issue. This information can help service desk employees better understand the problem on their initial review.
Some organizations encourage employees to start by using a knowledge base, which can provide information and answers about common questions or issues. Knowledge management or ticketing systems can provide easy access to internal documentation and educational material based on keywords and other data.
For smaller issues or requests, sometimes this is enough for employees to find what they need to resolve their problems. However, if a problem is substantial enough to warrant a support ticket, it's likely that it will require outside assistance to find a solution. When this happens, your teams need access to subject matter experts that can offer guidance and help work toward a solution.
Once the requests are submitted, support teams review the request and log their communications and actions in a thread or other location within the platform. All involved parties continue to communicate through the ticket until a resolution is reached and the ticket is closed. From there, documented solutions can be reused, expanded on and improved in the future with additional requests and maintenance.

The Difference Between Internal Tickets and External Tickets
The difference between internal tickets and external tickets is straightforward. Internal tickets are requests submitted by employees, contractors or anyone else who has access to your internal ticketing system. These requests are related to internal business needs, such as issues with systems access or problems with equipment.
External tickets follow a similar process, but these requests are submitted by customers and other external parties. These tickets focus on customer experience and product support, such as troubleshooting customer errors or client onboarding.
Regardless of whether the tickets are internal or external, the end goal remains the same - helping customers resolve their issues quickly so they can continue what they need to do. These teams can be very beneficial for your businesses bottom line. According to HubSpot, 91% of customer service teams agreed with the statement "our help desk system increases productivity."
Key Features of an Effective Internal Ticketing System
Before establishing or replacing your internal ticketing system, consider your unique business needs and what's required to address them. Because every industry and business is different, the features that matter most to your business might not be the primary focus of some platforms. However, some platform offerings can be built or customized to address specific needs.
Here are key features to review when searching for an effective internal ticketing system.
Single Sign-On
Look for a system that incorporates single sign-on (SSO) as a way to reduce the time spent managing the number of login credentials. SSO can also act as a central authentication point, improving security and helping to protect sensitive information.
Case Management
Case management features such as ticket tracking and reporting can help service desk managers address complicated workflows that require greater organizational involvement and additional resources. These workflows include legal and compliance issues. Case management features can help the system's overall organization and effectiveness by managing ticket queues, assignments and communication.
Collaboration Features
Employees turn to ticketing systems for assistance, so it's important that your ticketing system enables collaboration across the enterprise.
For example, your R&D team will need to turn to subject matter experts across the enterprise as they work on their next big innovation. Finding these experts and connecting them can be difficult when knowledge isn't documented or accessible. An internal ticketing system can help R&D teams quickly find the internal expertise they need to move forward with their projects. Meanwhile, whatever the R&D team learns can be contributed to the system, enabling future teams and projects to benefit from what they've learned.
Knowledge Base
Offering a searchable knowledge base can help employees self-resolve issues instead of adding tickets and contributing to backlogs. Most helpdesk tickets are submitted for standard, repeatable questions. When the answers to these common questions are already documented and easily accessible, you can greatly reduce internal ticketing requests that your helpdesk has to manage. That saves time for employees who need answers and for your helpdesk, enabling everyone to focus on more critical activities.
While knowledge bases are an important step in providing your team with access to information they need, it's also important to understand that they are just a portion of an overall modern knowledge management strategy. Effective knowledge management also considers the vast amount of tacit knowledge in your organization that isn't documented or stored in a knowledge base. Providing a bridge between documented information, like that found in knowledge bases, and employees with valuable experience and insight is a modern approach to knowledge management. Providing access and connections with these resources can be some of the most substantial improvements you can make for knowledge sharing in your organization.
Intuitive Interface
One of the most effective ways to encourage knowledge sharing is to make it an easy part of your workflows. Your helpdesk ticketing system should have an intuitive interface and simple navigation so teams can easily train up on the system and focus on knowledge transfer rather than struggling to understand the software.
Multiple Language Support
Problems and solutions come in every language. It's imperative that your internal ticketing system offers multiple language support for employees or contractors who need it. If your helpdesk software also offers external customer support, you'll need the ability to communicate across languages with customers and clients, too. Making your support accessible can improve employee loyalty and help you recruit and hire from a larger pool of applicants.
Supporting multiple languages doesn't necessarily mean you have to hire employees who are fluent in every language. Automated and AI-based translation services can help bridge language gaps.
Multiple-Channel Support
Teams aren't always in the office or at their desk when they need help. It's important to offer multiple channels of communication and support, such as web or mobile apps, email and phone services. Regardless of the channel used to access internal ticketing systems, all of the communication should be captured for future reference and use.

How to Achieve Excellent Internal helpdesk Management
Integrate All Support Channels
The most effective way to offer multiple-channel support is by integrating all channels into a single system. This allows your team to track and manage support requests across all sources to ensure that the correct resources are available and tickets are addressed effectively. Regardless of where a ticket originates, the request and the answer can be logged for future reference.
Develop An Internal Knowledge Base
Your enterprise contains a vast amount of tacit knowledge from your employees, but it's likely that only a small percentage of that knowledge is documented. Because of this, your teams can spend hours each day searching for information that is difficult to find or inaccessible. An internal knowledge base helps you to provide your team with the knowledge they need to work, grow and prosper within your company. A knowledge base can also serve as a first step before submitting a request for assistance or connecting with a subject matter expert for a more detailed discussion.
Automate Support
Not every helpdesk ticket is unique. In fact, many are standard requests that service teams receive and resolve on a regular basis. These types of issues are ideal for automating so that users can find the standard answer and self-resolve their request. Automated support and services such as AI-powered live chat can eliminate the need for manual responses and allow users to get help on demand.
Have Self-Service Options
Pairing automation with a resource such as a knowledge base can greatly reduce your helpdesk workload and allow employees more time for other priorities. When teams have an internal source to search for answers in a quick and easy way, they don't need to wait on others for assistance.
Our report "The High Cost of Inaccessible Knowledge" found that 92% of employees would prefer handling their own requests if they had the right software. Employees don't want to file unnecessary tickets, but they'll do so if their search for answers is frustrated. By contrast, empowering employees to solve their own problems can improve satisfaction and performance while reducing the queues awaiting support teams.
Develop A Prioritization System For Requests
Though not every ticket is unique, they each have an individual priority level. It's important to develop a prioritization system so you can quickly identify and assign urgent tasks. Your helpdesk strategy should include a service-level agreement (SLA) or other standardized expectations. Both the users submitting the requests and the support team can use the SLA as a guideline for expected response times and know how to escalate high-priority issues.
How Knowledge Management Supports Internal Ticketing Systems
Your internal helpdesk ticketing system supports your workforce when they don't have the knowledge or experience to resolve issues on their own. A modern knowledge management system helps teams share knowledge and solve problems quickly. Using the power of both systems combined allows you to leverage the expertise of your employees while making your support process more efficient.
Learn how Starmind can help you reduce support ticket volumes and speed up your time to resolution by giving your teams access to the knowledge they need.
Sign up to receive latest stats, insights and events
Speak to an expert talk
We're always ready to help, with support tailored to your business needs. Schedule a call with one of our team to:
Learn more about how Starmind can connect knowledge across your business.
Discover the use cases that best fit your needs.
See how you can bring all of your company's knowledge into one central platform.
Discuss your bespoke pricing package.
My rich text default content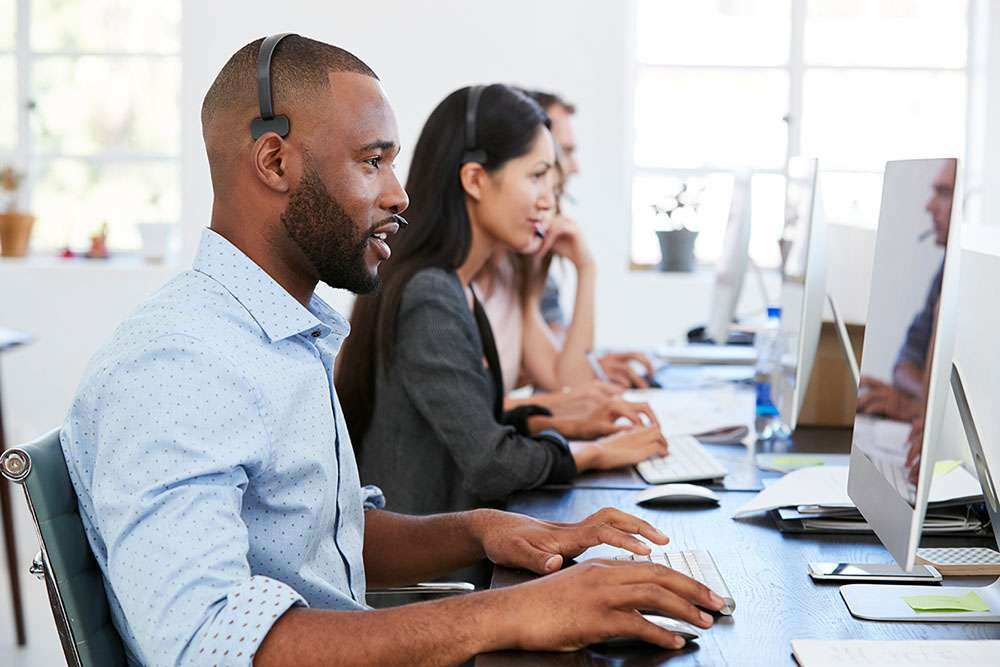 My rich text default content