mainblog-section
Every organization succeeds when it can easily collect, share and build upon its internal knowledge. Sales teams are in the business of providing solutions for their customers. They can especially benefit from a modern knowledge management strategy that helps them quickly access internal knowledge and spend less time searching for answers or internal experts.
Starmind recently partnered with a company that wanted to improve sales efficiency and access to information. This company's goal was to develop a more modern, streamlined approach to knowledge management.
Internal surveys found that sales employees were spending, on average, up to 25% of their working day searching for information or asking and answering questions. Answers came slowly, as well. The product-related answers sought by salespeople could take three or four days to arrive while customers and prospects were left waiting.
The information relied on by salespeople regularly changes, whether it's about products, customers or the marketplace. Keeping that data up to date can be a challenge, and up to 80% of an organization's internal knowledge isn't even documented.
One of the company's leaders explained the problem salespeople faced. "It's just simply not possible anymore for our sales reps to be experts in each individual detail. So in this respect, it's really key to know where to find high-quality answers or even to know which colleagues have the expertise to answer a question."
Repetition was also rampant within internal communications. Half of all questions raised were being answered multiple times across multiple platforms. Because team members couldn't decide which platform was the best place to submit questions, some asked the same questions on multiple platforms in an effort to get a fast response. This added complexity, created inefficiency and resulted in duplicative work.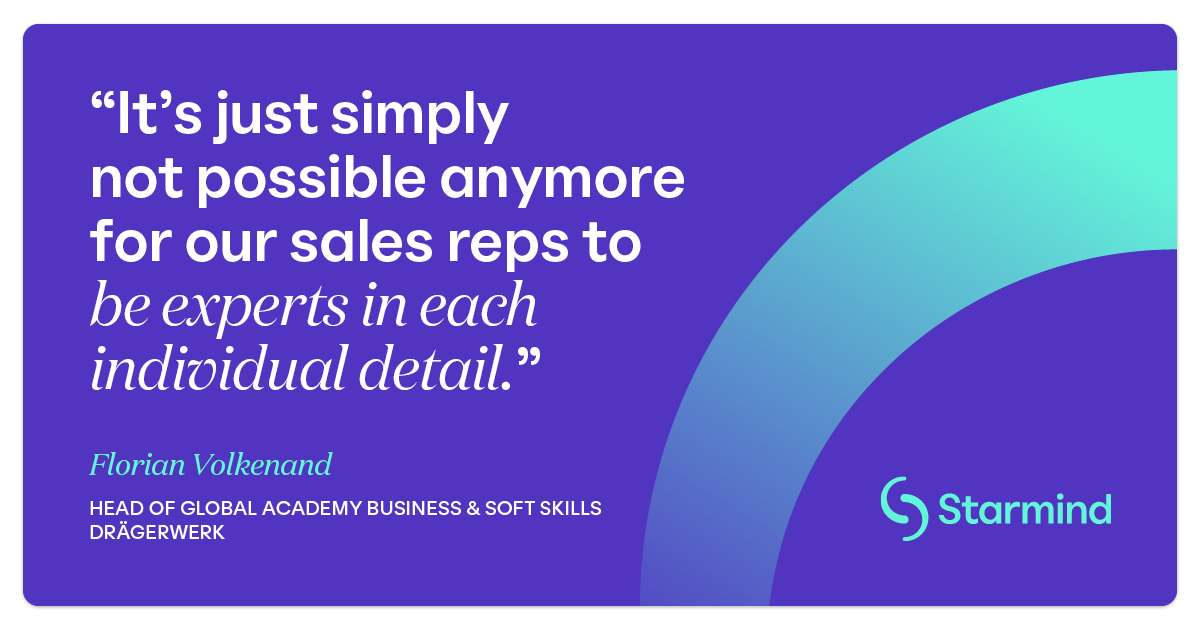 Creating an Internal Knowledge Network
Unfortunately, many organizations struggle to make information consistent, easily available and on demand. Instead, employees spend hours searching for answers or answering questions repeatedly, which wastes a significant portion of businesses' working capacity.
Salespeople and other customer-oriented team members are losing valuable time that could be spent helping customers. Support desk staff are overwhelmed by ticket backlogs and potentially disillusioned by repeatedly answering simple questions. Subject matter experts are also taxed by knowledge-sharing inefficiencies, such as having to answer the same questions time and again and on short notice.
Starmind's solution for this company was to start small. Target groups were selected for the initial effort, which was providing easier access to tacit knowledge. Improving this access required an internal knowledge network that connected the knowledge of users throughout the organization. Knowledge from answered questions could be stored and made available on demand for future inquiries. The benefits of this knowledge gathering are manifold, including expediting onboarding processes for new employees and responding to customers faster and with reliable information.
The company began by training its sales employees on Starmind. This training covered how to use the platform and outlined best practices for the information that high-quality answers should include (or exclude). This training, along with the encouragement and support of management, helped create an environment that thrived on knowledge sharing.
Reducing Time Wasted and Repetitive Questions
Within six months, employee surveys indicated:
Time spent searching for information and asking or answering questions had been reduced by half.
The number of repeated questions was reduced by two-thirds.
50% of the questions raised had answers available on demand.
85% of employees said they would recommend Starmind to colleagues.
More than 70% are very satisfied with Starmind in terms of getting information quickly, finding relevant answers and growing knowledge sustainably.
Instead of a steady flow of standard, repeatable questions, employees shifted to asking questions about new issues or to follow up. These discussions add to the knowledge network and help ensure high-quality information continues to be shared over time.
In the past, some of this company's customers were left waiting days for answers. With Starmind's real-time knowledge network, answers could be provided within hours or even minutes, providing a better experience for customers and allowing for more time to focus on other work.
One example of the difference can be seen in a salesperson who used Starmind to submit an important question from a decision-maker. Instead of asking the customer to wait, the employee was able to connect with the product manager using their mobile device and obtain an answer in less than 20 minutes. These successes motivated the sales team and highlighted the value of Starmind.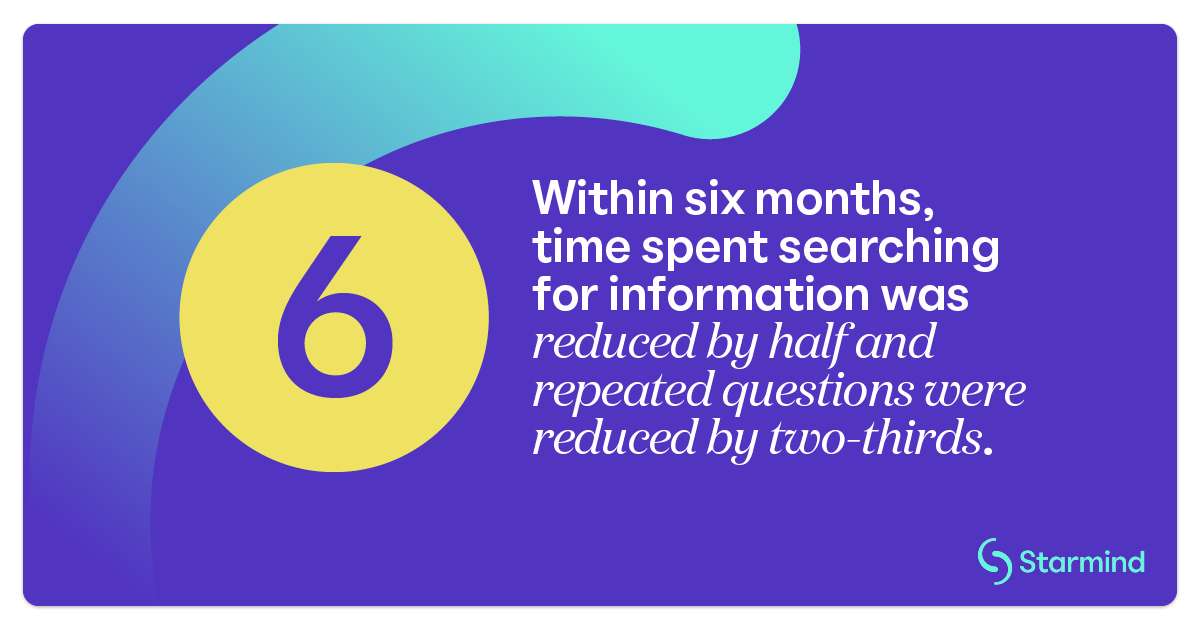 Encouraging Repeated Use of the Platform
A modern knowledge management system should be a primary resource for sales information. Such a platform empowers employees to search for existing knowledge and self-resolve issues without unnecessarily contacting other employees or filing excessive tickets. At the same time, a knowledge management platform can make it seamless for employees to connect with subject matter experts when they do require further assistance.
A platform that can facilitate these pathways will nudge employees into behaviors that yield answers faster and more efficiently. By building these habits, employees will improve their efficiency and trust the platform to provide timely, accurate information.
This company cited two key performance indicators that illustrated Starmind's value: employee adoption rates and frequency of use. Employees are engaged with the platform, not only learning from it but also providing high-quality answers to further enhance the knowledge network.
Employees understand the value of knowledge management and can recognize its benefits and the value of Starmind. When discussing the platform's use, a company leader said that "the frequent use of the system is the best feedback you can get."
Check out Dräger's full story for an in-depth look at how they used Starmind to take their customer service and knowledge sharing to the next level.
Are you ready to use a modern approach to knowledge management to transform the way your organization works? Discover how Starmind can help you benefit from fast and accurate access to your organization's best available knowledge.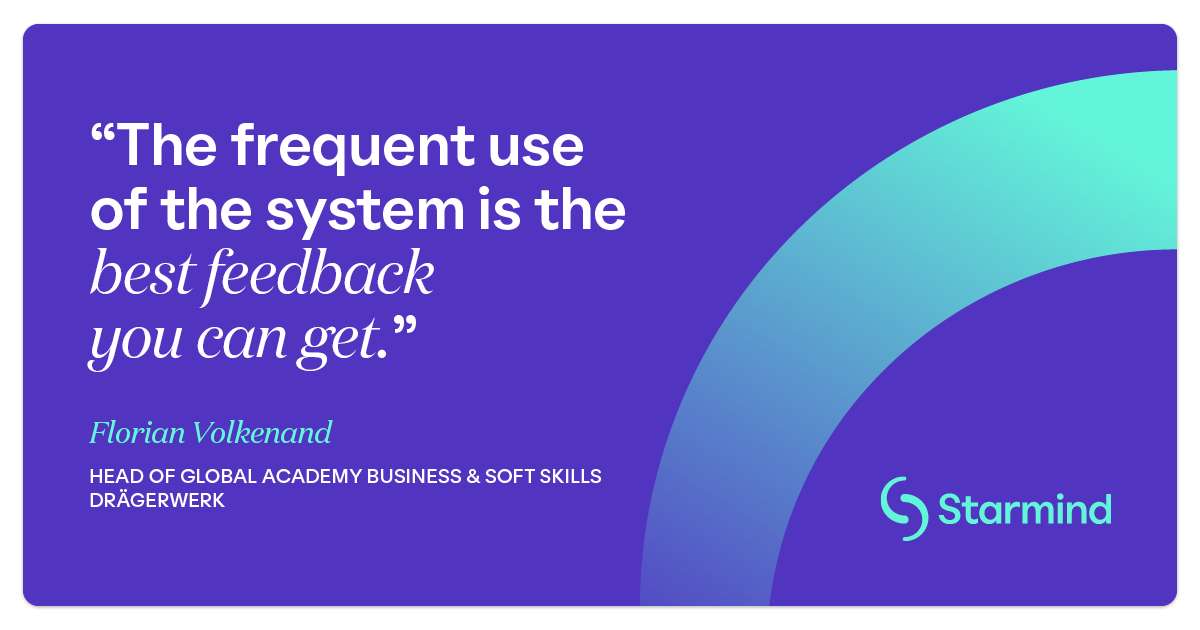 Sign up to receive latest stats, insights and events
Speak to an expert talk
We're always ready to help, with support tailored to your business needs. Schedule a call with one of our team to:
Learn more about how Starmind can connect knowledge across your business.
Discover the use cases that best fit your needs.
See how you can bring all of your company's knowledge into one central platform.
Discuss your bespoke pricing package.
My rich text default content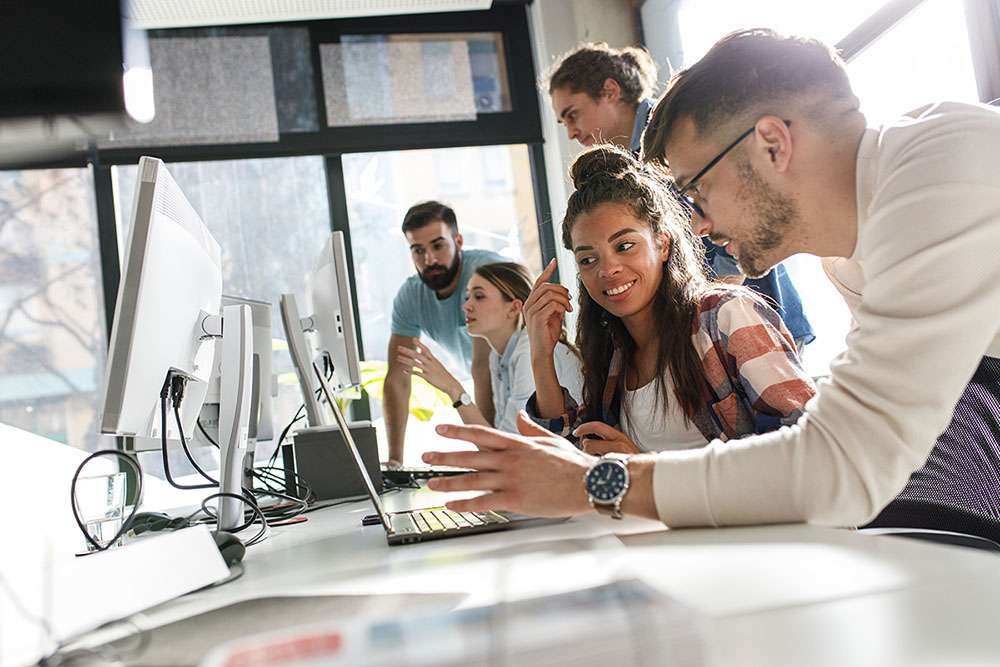 My rich text default content