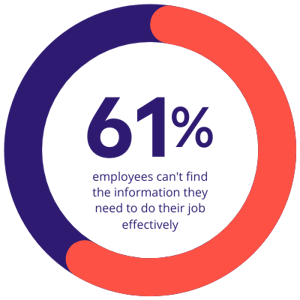 The inability of employees to access the information they need is a problem that costs organizations time, money and competitive advantage.
It's also a problem that is extremely widespread. Research conducted among 1,000+ knowledge workers in the UK and US for the Starmind Future of Work miniguide for Solving the Talent, Expertise & Skill Gap Challenge revealed that more than half of workers (61%) can't find the information they need to do their job effectively.
This is why the democratization of knowledge is so important. It's about giving everyone in your organization access to knowledge, empowering employees to ask questions and share insights, and making it as easy as possible for people to find the answers they need and the organization can be as productive as possible.
What does it mean to democratize knowledge?
It's a simple enough idea: make the knowledge that exists within your organization easily accessible so that everyone, no matter what they do or where they are based, can go straight to the information or expertise they're looking for. In doing so, you break down the silos that hamper knowledge sharing and so all the people in your organization can work effectively.
In practice, however, the democratization of information can prove challenging. One problem is that knowledge in modern organizations is scattered across many different places, from Slack channels to Google drives, from inboxes to the intranet (not to mention everything that's stored inside people's heads).
Another problem is that organizations themselves are becoming more and more widely dispersed. The expert team members people need to reach out to may well be working at home, in a different office or even on another continent, making collective knowledge harder to access and share.
Organizations can overcome these challenges by using a state-of-the-art knowledge management platform, such as Starmind, which allows employees to ask and answer questions and connect to subject matter experts and their knowledge anywhere in the business, whenever they need.
Benefits of democratizing knowledge in your organization
By putting an end to endless information searches and giving employees instant access to the right answers, democratized knowledge boosts productivity across your organization. It also makes it easier for team members to collaborate and innovate. Then there are all the additional benefits it brings. For example, democratizing knowledge:
Empowers team members to self-resolve
One of the most apparent benefits of democratizing knowledge is enabling your employees to work with greater freedom and autonomy. They are no longer reliant on knowledge gatekeepers for critical information. Instead, they can go directly to the information or expertise they need. This self-service approach not only helps employees work faster and more efficiently – it also helps to increase engagement by empowering people to take the initiative and solve problems in their own way.
Enterprise organizations have been leveraging Starmind to retain knowledge and avoid the creation of IT support tickets that have already been asked. This enables your organization to lower costs by increasing self-service. SwissRe, saw a 12% reduction in IT support tickets within 12 months with the adoption of Starmind - access the full SwissRe case study.
Learn how Novartis democratizes their knowledge by integrating Service Now with Starmind
Fosters transparency, openness and innovation
Knowledge silos don't just harm productivity. They threaten your organization's ability to be innovative and agile and can greatly hinder your time-to-marketing. Excluding certain individuals from critical information and making it harder for colleagues to collaborate, share and learn from each other impacts R&D teams globally.
Democratizing knowledge breaks down those barriers and helps to create a more open and inclusive work environment that facilitates the exchange of knowledge and gets your products to market faster.
Reduces time spent finding expertise
When knowledge is democratized, employees can tap into the expertise of the entire organization - wherever and whenever they need it. This creates lots of opportunities for boosting productivity and increasing efficiencies. Sales teams that leverage a modern platform can answer prospects faster, keep sales momentum up and see a significant impact on lead closing.
How to achieve the democratization of knowledge
The quickest, easiest and most cost-effective way to democratize knowledge is to start using a tried and tested modern knowledge management platform. The best platforms will enable you to bring information from across your organization together in one easily accessible place.
Starmind is one such platform. It uses AI to build a real-time knowledge network, giving teams on-demand access to the answers they need, when they need them. Doing so puts an end to lengthy (and costly) information searches, empowers people to learn, collaborate and innovate together, and helps create an engaging and inclusive environment for all your employees.
If you are interested in better understanding the impact democratizing knowledge and uncovering hidden knowledge can have on your company's bottom line, get in touch with our experts for a personalized assessment.