mainblog-section
Enterprise sales processes are notoriously convoluted - a function of the large budgets and numerous stakeholders who must weigh in.
As an enterprise sales leader, you may not be able to control those factors, but you can address issues inside your own organization that contribute to these delays. Chief among them:
Missed deadlines for RFPs.
Delayed responses to prospect's queries.
Inaccurate or outdated information about your organization's capabilities.
Artificial intelligence (AI) and Modern knowledge management principles, processes and tools can help you efficiently close that gap and accelerate your sales cycles by improving the flow of information in your entire organization and empowering your sales reps to quickly learn best practices from each other.
What Are Sales Cycles?
A sales cycle is the complete process of a sales transaction ⁠— from the moment your brand connects with a customer and through to the completion of their purchase. Sales cycles have several stages. Those stages vary across businesses and industries, but they typically follow this pattern:
Prospecting, making contact and building rapport.
Qualifying your prospects.
Analyzing your prospects' needs.
Presenting your solution.
Overcoming objections.
Closing the sale.
Following up and asking for referrals.
While some sales cycles may be condensed or extended, the same general flow can be observed in various selling strategies.
In every stage, timely access to information is critical. Sales teams that collaborate are sales teams that win.
How Long Is a Sales Cycle?
Sales cycle length, sometimes called average sales cycle length or average deal cycle, is the average number of days or months needed to close deals, and it's an important metric. Sales cycle length is calculated by taking the period of time (days or months) required for all deals to close, then dividing that total by the number of deals closed.
Enterprise sales organizations generally track some variation of these metrics, tailored to their specific needs. However, even established companies may neglect to calculate and evaluate their sales cycle length accurately due to the overwhelming amount of sales information spread out across divisions.
Sales cycle length can vary across industries, products, accounts or specific salespeople. As average deal sizes grow, sales cycle lengths tend to extend.
Organizations with products or services that have a lower financial barrier to entry generally have shorter sales cycles and the focus is on increasing the volume of transactions. Larger deals, however, may take months or even years to close.
The strength of relationships can also affect average sales cycle length. As sales teams approach new prospects, they'll need to dedicate more time upfront to learning about them and their needs. It also takes time to educate customers and earn their trust. As these relationships mature, sales cycles can be condensed by eliminating some of the front-end work even while continuing to nurture relationships.
Sales Cycle vs. Sales Funnel
Sales cycles and sales funnels can be closely related but are not interchangeable. Sales cycles are related to individual transactions, while a sales funnel is a visual representation of sales cycles as they relate to the customer journey.
Like sales cycles, sales funnels are composed of multiple stages that might vary from account to account while generally following the same path. The top-of-funnel stage is for accounts that are early in their journey and just becoming aware of their problem and possible solutions. Mid-funnel activities include expanded research and evaluation of potential solutions, while bottom-of-funnel accounts are those closest to making a purchase decision.
Potential customers' positions in your sales funnel can be subdivided into additional stages based on current levels of activity and engagement with your brand. This typically includes some degree of the following stages:
Awareness
Interest
Consideration
Evaluation
Purchase
Retention
Why Is It Important to Optimize Your Sales Cycle?
Optimizing your sales cycles improves the effectiveness of your sales teams, which increases deal volume and size and can improve customer satisfaction and retention.
Your sales process and cycles should be regularly measured and analyzed to find areas of improvement. When you optimize sales cycles, your sales team can close opportunities faster with a higher average deal size and increased volume and conversion rates.
Knowledge sharing plays a fundamental role in optimizing your sales cycle. When customers consider buying from your business, they'll have questions for your sales team. Sometimes getting those answers requires additional information, and you may win or lose a sale based on how quickly you can access that information.
Furthermore, sales reps can average nearly five hours of every workweek searching for answers and information needed for customers and orders. This delay comes at a price: 52% of salespeople surveyed for Starmind's Future of Work report say they have missed deadlines and missed opportunities in framing proposals for customers or clients because of lack of access to relevant information.
Providing knowledge and resources that streamline knowledge transfer can eliminate this wasted time and allow your salespeople to focus on winning business.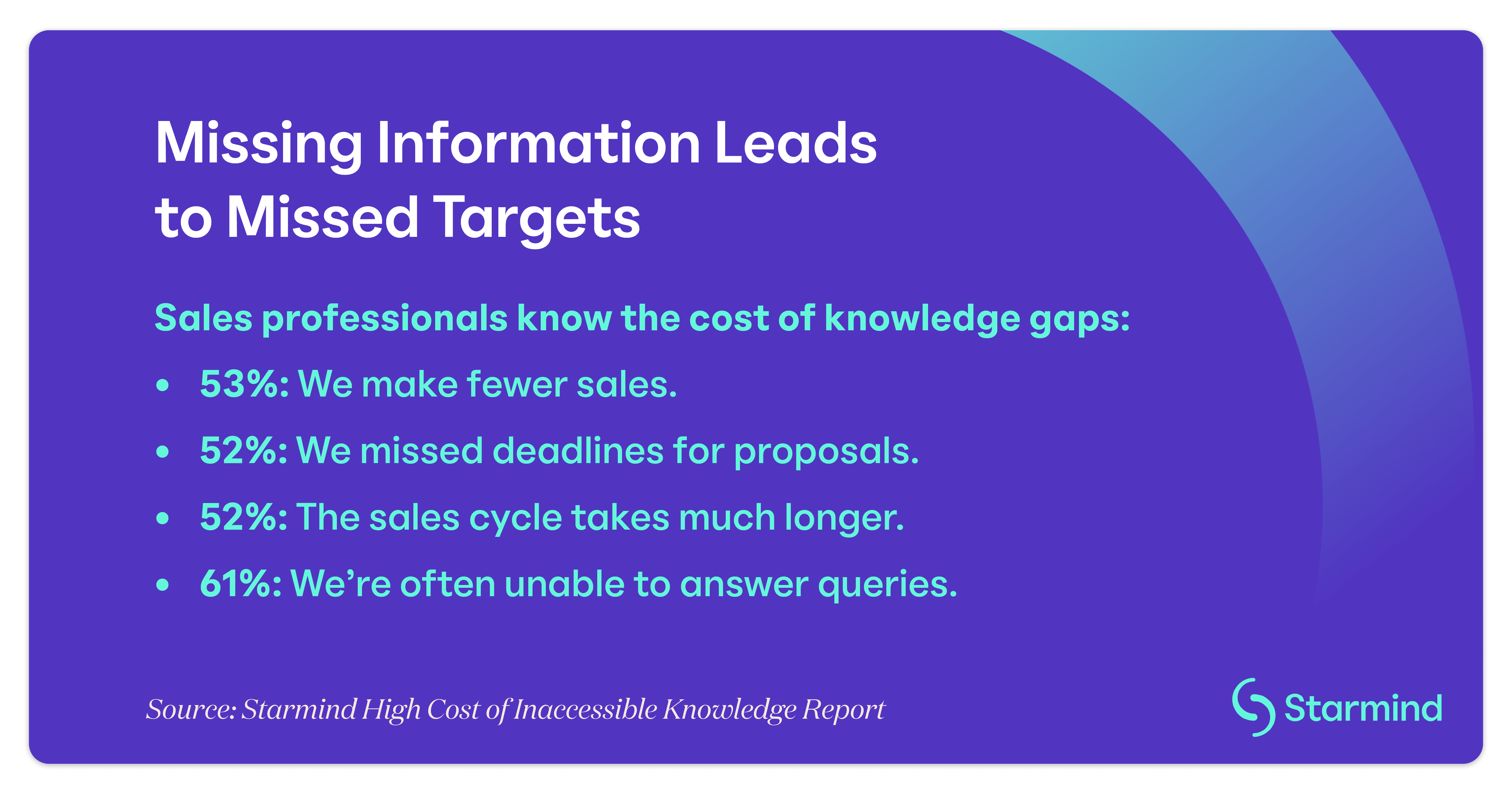 How to Accelerate Your Sales Cycle
There are countless ways to improve sales processes and performance. Determine next steps by reviewing your goals and identifying actions that could move you closer to your desired results. Let's look at a few ways you can accelerate your sales cycle.
Pay Close Attention to Common Behavior
By capturing and analyzing data on deal velocity, you can begin to spot trends and common behaviors that drive them.
Create opportunities for your sales team members to share best practices for common opportunities and challenges. Even small adjustments to tactics can have a big impact when rolled out quickly.
Relate to Each Prospect
As your organization gains knowledge about an account, it's important to use that knowledge to provide a better experience for the customer. Create a personal, meaningful experience by relating to the prospect and understanding their needs.
While each customer is unique, many will share traits of your existing customers and ideal customer profiles. Effective knowledge sharing inside your sales and customer service teams can accelerate that pattern recognition and the application of those insights. When made easily accessible to your team, this will also result in a better experience for prospects and can shorten preparation time for your sales teams.
Highlight Social Proof
Social proof includes the reviews, recommendations and other forms of communicating an experience with a brand or product with the public. Leveraging social proof can be a powerful way to build trust with your buyers.
Design and implement systems that make sharing this kind of information effortless.
Manage Your Sales Data in One Place
Accessibility to historical data and knowledge is vital to sales team success. Because sales can close at any time, your salespeople should always have access to all of the information they need. Streamline the process for finding answers by centralizing data in one location that can be accessed on demand.
Customer relationship management (CRM) systems are essential for sales teams. It's often the first place sales leaders turn for historical data, trends and forecasts. Salespeople use CRMs to capture and store sales activity and information about deals and prospects. Having a central location for this information helps teams become more efficient and productive.
While CRMs contain the details of your sales activities and history in a central location, it's not a substitute for a robust, modern knowledge management system. Design your systems and processes to work in tandem to empower your sales team members to instantly access critical information for your customers and connect with internal subject matter experts to help with more difficult challenges.
Implement Incremental Closes
As your business learns more about accounts and their needs, you can begin to implement incremental closes. Warm your prospects to the idea of commitment gradually by making small requests that grow in size and importance over time. This sales tactic can be built upon knowledge of previous sales history and best practices formed through documented results. As your salespeople continue to develop relationships with these accounts, sales cycles are naturally shortened.
Encourage Effective Sales Team Communication
It's important to foster an environment that enables and encourages effective sales communication. Teams should always have access to business-critical information and answers to common questions. Improve sales team collaboration by helping connect employees with subject matter experts. When your sales team can resolve their issues quickly, they have more time to devote to finding and closing more sales opportunities.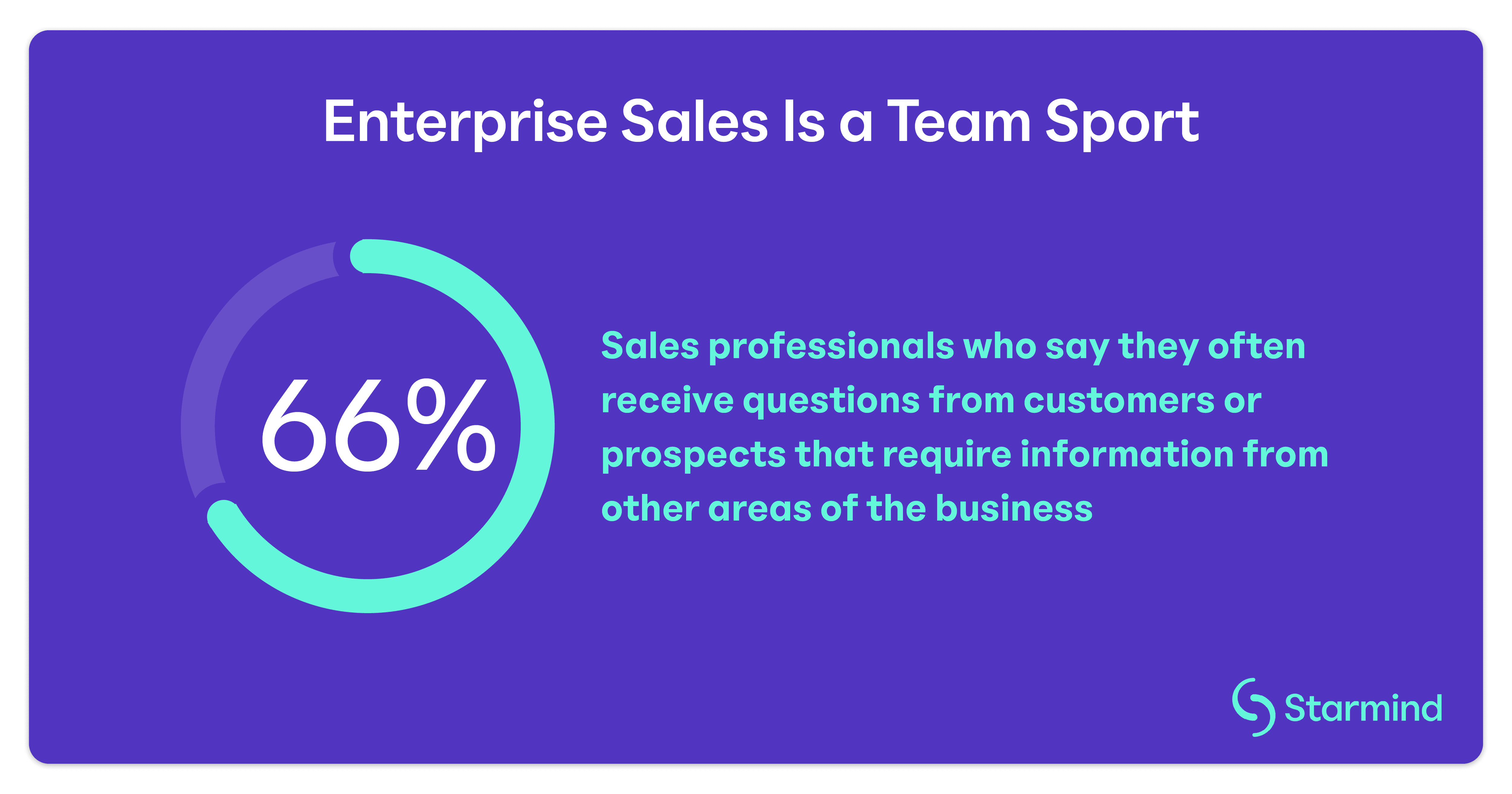 Enterprise Sales Is a Team Sport
Focus on Your Highest-Performing Channels
Measure and analyze your sales performance by sales channel to determine the highest-performing and most profitable avenues. Allocate additional resources and energy to leading channels for the highest return, but don't neglect other channels. Find ways to streamline processes and produce more efficiently in lower-performing areas so you can focus on areas with the highest return.
Resolve Objections Early on
It's common for salespeople to repeatedly hear variations of the same objections from prospects and customers. By collecting their responses to common sales objections via a modern knowledge management platform, your sales team can develop strategic approaches to overcome those objections and roll them out quickly across the sales organization.
This type of knowledge sharing can have long-term benefits, as sales team members encountering similar issues in the future can obtain guidance based on experience and company knowledge.
Be Clear About Pricing
Having a transparent pricing structure can save your sales team time and frustration. Be clear about what's required from your customers and what they should expect in return. Your team should be able to articulate the value of your offer.
Sales teams should receive training and resources so they can find answers to the questions they or customers might have around pricing.
Find Support to Improve Sales Efficiency
Speeding up your sales cycles can have a massive impact on your ability to compete in the modern global economy.
Some sales cycles will be unavoidably longer than others. However, by applying insights learned from reviewing and improving existing processes, you can help even the largest and most involved deals move through the sales funnel more efficiently.
Accelerating your sales cycle in an ongoing process. Regularly review sales history and activity to find opportunities for learning and improvement. Some methods of acceleration may require shifts in sales tactics or communication. Others may rely on experimenting and analyzing the results. Coaching, self-guided learning and other training opportunities focused on sales efficiency are some of the best ways to meaningfully optimize your sales cycles and processes.
Enterprise sales teams must collaborate more closely than ever before. If you're ready to accelerate sales cycles and give your team more time dedicated to actually selling, get in touch to find out more about what Starmind can do for your organization.
Sign up to receive latest stats, insights and events
Ebook AI and Sales: A winning combination [Download now]
Odds are, you're thinking about how to implement an AI tool into your sales organization right now. Download now and discover:

A guide to what AI is and what it's doing for sales orgs
Innovative uses of AI in sales
How to get the most out of your AI tool
Download your Ebook today!
My rich text default content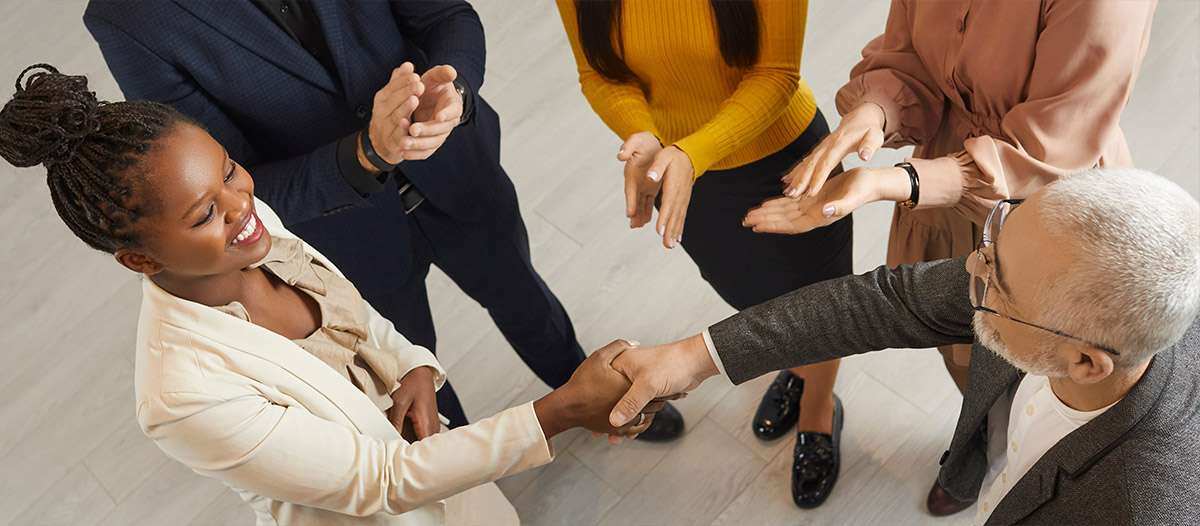 My rich text default content