mainblog-section
Your sales team is busy serving clients, preparing for meetings, prospecting and performing countless other tasks. Wouldn't it be nice if clients came directly to you asking for a request for proposal (RFP)? To successfully deliver and win RFPs, companies must understand the value of RFP project management.
RFPs provide significant revenue opportunities. According to a recent report from Loopio, companies sourced 33% of their 2021 sales revenue through deals involving RFPs, with an average win rate of 44%. Those figures are lower than before the pandemic, but that also suggests growth potential for companies with sound RFP practices.
Discover how modern knowledge management can inform RFP project management and help your team provide timely, accurate and successful proposals.
What Is RFP Project Management?
An RFP is an announcement or inquiry used by organizations to find a third party that provides a specific product or service for a project. RFPs are typically used for larger, more complex projects and may require multiple subcontractors.
Requests are usually accompanied by a statement of work and expected timeline. Eligible vendors and contractors then submit proposals and bids. RFPs are commonly issued by government agencies, and many large private organizations also use them.
Responding to RFPs is a project in itself and requires the adoption of project management principles. More than 40% of companies have dedicated individuals or teams for the RFP process, according to the Loopio report. Moreover, the report found, companies with dedicated RFP managers essentially eliminate the risk of losing proposals because they missed a deadline.
RFPs can require extensive coordination between departments and across your business. Winning proposals benefit from open communication, information sharing, timeliness and accountability — all of which project management can coordinate.
4 Benefits of RFP Project Management
Ensuring Team Alignment
Effective project management can keep your team on task and focused on goals. This alignment must be maintained through the RFP process, and project management does this through regular assessments of progress and performance against expectations and timelines. Your team should also be aligned on standardized processes for creating and submitting RFPs, including financial considerations and the scope of work for the resources included in your response.
Better Informed Decision-Making
Well-managed teams make informed and timely decisions because they can easily access the knowledge and resources they need. Team members understand their roles and how they help to complete the project.
Teams can't be expected to have all the answers to every question, but they should know how to access subject matter experts (SMEs) who can fill in the gaps quickly. Importantly for RFPs, these SMEs should be looped into the process so they can be available while still handling their day-to-day responsibilities. A modern knowledge management system can identify the SMEs who can facilitate knowledge sharing and collaboration that informs RFP decision-making.
Stronger Communication and Engagement
Because RFPs require input from multiple departments, your organization needs to share knowledge in a natural, easy and meaningful way. Effective RFP project management ensures that key data comes from central, trusted sources, which ensures that everything in your final proposal is accurate and up to date.
Well-managed RFP processes ensure that project team members can easily communicate with each other and with SMEs, contribute their own knowledge and expertise, and help the organization build consensus for the proposal.
Reduces Risk
Risk can't be eliminated, but it can be reduced. RFP project management can help you stay on schedule, identify potential concerns earlier and resolve or avoid those problems before they become significant. Knowledge sharing opportunities such as onboarding and training can help better prepare employees for their roles up front, reducing the risk that team members don't understand their assignments.
Effective project and resource management also reduces financial risks from overspending, money lost to errors and time wasted from missing or inaccessible information.

4 Key Success Factors for RFP
Structure and Organization
RFPs are complicated and time-consuming by design. They're usually involved with larger and more costly projects, which raises the stakes and requires even more diligence in collecting accurate information.
RFP project management is about creating the right framework and structure around the proposal process, and that includes recognizing the role of SMEs. These experts from across the business should contribute to their assigned portions of the RFP while also having a broad understanding of the overall project and how the individual segments connect to each other. Furthermore, everyone on an RFP project should understand their roles, where to go for information and who to communicate with.
It's important to offer training and documentation to prepare teams for challenges they may encounter so they can resolve issues and complete work independently. But, it's also important to provide resources such as a knowledge management platform so that employees have access to other knowledgeable team members that can share information relevant to the project.
Management Support
RFP projects will struggle to succeed without the backing of management, including senior executives. While project managers and department heads will direct day-to-day tasks related to the project, executives can offer high-level direction, free up resources and eliminate roadblocks or other limiting factors. Executives can also assure that RFPs receive the proper budgeting and personnel, up to and including dedicated RFP proposal teams.
Quality Information
Providing the most relevant, accurate and up-to-date information is critical for any RFP. Overestimating bids, for example, could result in missed opportunities, while underestimating could result in lost revenue, additional expenses and a damaged client relationship.
Your knowledge or document management systems should be regularly updated and verified, and users should be able to easily assess the quality and relevance of the information presented. Accessing important information quickly and easily also helps ensure that proposals are submitted in time. More than half (52%) of sales and business development professionals said they have missed deadlines and opportunities in framing proposals for clients due to missing information. Users should also be able to easily contribute their own knowledge and ask questions anonymously as they work, so that each RFP proposal adds insights for future projects.
Speed and Efficiency
Hitting deadlines is an essential part of the RFP process, and you need an efficient, easily followed process in place to ensure that high-quality work is delivered in a timely manner. RFP project management requires coordinating efforts across teams for interconnected tasks.
Apply agile transformation strategies to make your process more efficient. Teams that encourage knowledge collaboration will unleash enormous amounts of tacit knowledge that would otherwise remain hidden and unutilized, which speeds up projects and helps RFP teams hit deadlines.
How to Create an RFP Response
As a sales leader, you're likely familiar with the request side of an RFP, but to optimize your response process, you need to understand the full RFP cycle.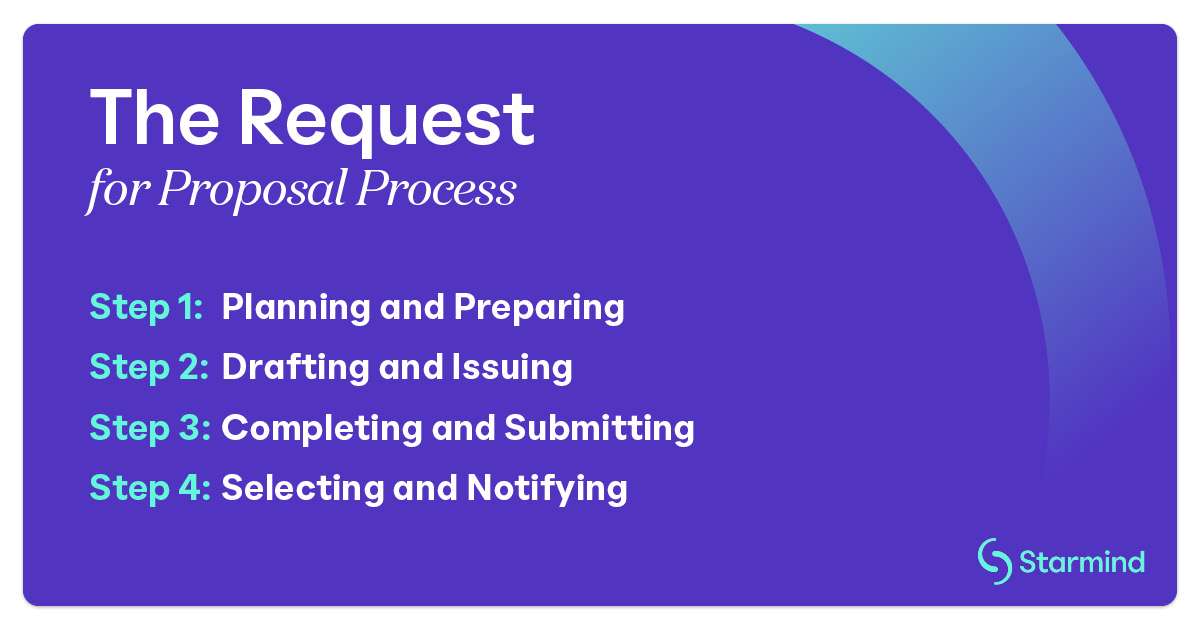 The RFP Process
It's important to carefully review your RFP upfront for deadlines and additional requirements. The RFP process involves multiple steps, but these vary by industry, business or other needs. Generally, the process includes the following steps.
Planning
The planning, or discovery, phase is the first step in the RFP process. During this phase, companies review goals to determine what needs to be included in the RFP, including estimated timelines and budgets. This step should also include a dialogue with stakeholders to discuss everyone's roles, how the final purchasing decision will be made and how the RFP might affect the company. While this portion of the RFP process is reserved for the organization submitting the request, the details and information provided from this step will affect the rest of the process, as well as its outcome. All involved parties can benefit from taking a knowledge management approach to the process from their first interaction with the RFP. This allows teams to verify that the information provided in the request or proposal is complete, accurate and up-to-date, and that all necessary teams or departments are included and represented.
Drafting and Issuing the RFP
The second step in the process is the company actually writing an RFP. Because the details of an RFP drive proposal planning, RFP-issuing organizations should include as much detail as possible. For examples of what could be included in an RFP, check out HubSpot's free RFP templates.
Business should consult with stakeholders and experienced team members to ensure there's adequate representation from all involved parties or departments. Securing representation for RFP work effectively helps you, as a vendor, gain a thorough understanding of the project and prepare accurate proposals.
Advertising agency owner Angela Harless recommends starting the process with clarity. This includes providing a detailed background and purpose for the project, defining its goals and evaluation criteria, and, where possible, providing a "wish list" of functionality or deliverables that would be nice to have but not necessarily in the project's scope or budget.
3rd Parties Considering the RFP and Submitting Proposals
When you're on the receiving end of the RFP, you also need to prioritize collecting and sharing as much detail as possible. The proposal is your opportunity to promote your business's value, attention to detail and ability to deliver high-quality customer service and support. Project management principles can help, but you'll also need the assistance of knowledgeable team members across your organization.
Start by carefully reviewing the RFP to determine what information is needed, what knowledge is readily available and who else in your organization has pertinent knowledge and experience. Approaching the proposal with a project management perspective can ensure your teams are aligned and your processes are efficient and organized.
Reviewing Proposals and Selecting a Winner
Once you've submitted your proposal, the final step is for the requesting organization to review the submitted proposals, determine a winner and notify them. Many companies break down the decision process by selection criteria. Those with the most potential are added to a shortlist and further whittled down from there. The final decision isn't always as simple as selecting the lowest or quickest bid.
Companies submitting proposals should be ready to provide additional information upon request. Having a repeatable project management process in place will make this easier, as you'll already know where to find knowledge or which SMEs to consult with.
How to Optimize Your RFP Process
Assign Ownership
Each aspect of your RFP can be assigned to a relevant area of your business. Review the conditions of the request and assign segments of responsibility. While multiple business units might own pieces of the RFP proposal process, they all need to understand the RFP as a whole and how their contributions will work together. Project managers are responsible for delivering clear and consistent communication so everyone has the same information and interprets it in the same way.
Engage SMEs
SMEs are essential to the RFP process because of their specialized, expert knowledge. Ideally, your RFP process includes at least one primary SME per area of the business, as well as a backup for each. Use a knowledge management platform that highlights the strengths of employee knowledge to quickly determine which employees are most familiar with a subject.
Categorize Your SME Content
RFPs often include common requests, and SMEs may find they're providing similar information across projects. This wastes time and frustrates those experts and can even lead to knowledge gaps when SMEs can't fulfill requests in a timely fashion.
While SMEs are an essential part of any RFP effort, information about standard, repeatable questions should be stored in a central location using a modern knowledge management system. This way, anyone needing such information can self-resolve their queries and save bigger-picture or novel questions for SMEs.
Set an Expiration Date
Completing an RFP can require a substantial time commitment to collect all of the necessary information. You can save time by storing and reusing information that's commonly requested in RFPs. However, you also need to make sure that stored data is still relevant and up to date. Set an expiration date on the data you use to complete RFPs so you're prompted to periodically review and update as needed.
Efficiently Address RFP Specifications
Most RFPs provide extensive details about project requirements. Carefully review the entire request and consult with knowledgeable and experienced team members to ensure that you're efficiently addressing all of the RFP's specifications. Knowledge management platforms can help you systematically locate the information required for each specification or consult the right SME or other resource for questions.
Effective project management for this simple yet foundational step can be the difference between proposal success and failure.
Using Knowledge Management With RFP Project Management
Communication, efficiency and organization are key elements of a successful RFP project management process. But you also should reflect on your organization's strategy and ability to manage digital transformation. If you can't adapt to rapid changes and changing demands, your proposals will fall short.
Your team needs quick and easy access to the greatest level of detailed knowledge available throughout your enterprise. When teams can communicate and share knowledge effectively, your project managers have more time to focus on resolving other issues and ensuring that your proposals are the best reflection of your organization's ability.
Use a modern approach to knowledge management to help your teams connect to expert knowledge from anywhere in your business, whenever they need it. This approach will also save your teams countless hours of repeatedly asking and answering questions or being frustrated by lengthy or unsuccessful searches for information.
Structure all of this under effective RFP project management practices to help your organization respond to RFPs with accurate, timely and attractive proposals.
Discover more about how a modern approach to knowledge management can help your teams win more business. Learn how to improve your organization's agility and create value.
Sign up to receive latest stats, insights and events
Speak to an expert talk
We're always ready to help, with support tailored to your business needs. Schedule a call with one of our team to:
Learn more about how Starmind can connect knowledge across your business.
Discover the use cases that best fit your needs.
See how you can bring all of your company's knowledge into one central platform.
Discuss your bespoke pricing package.
My rich text default content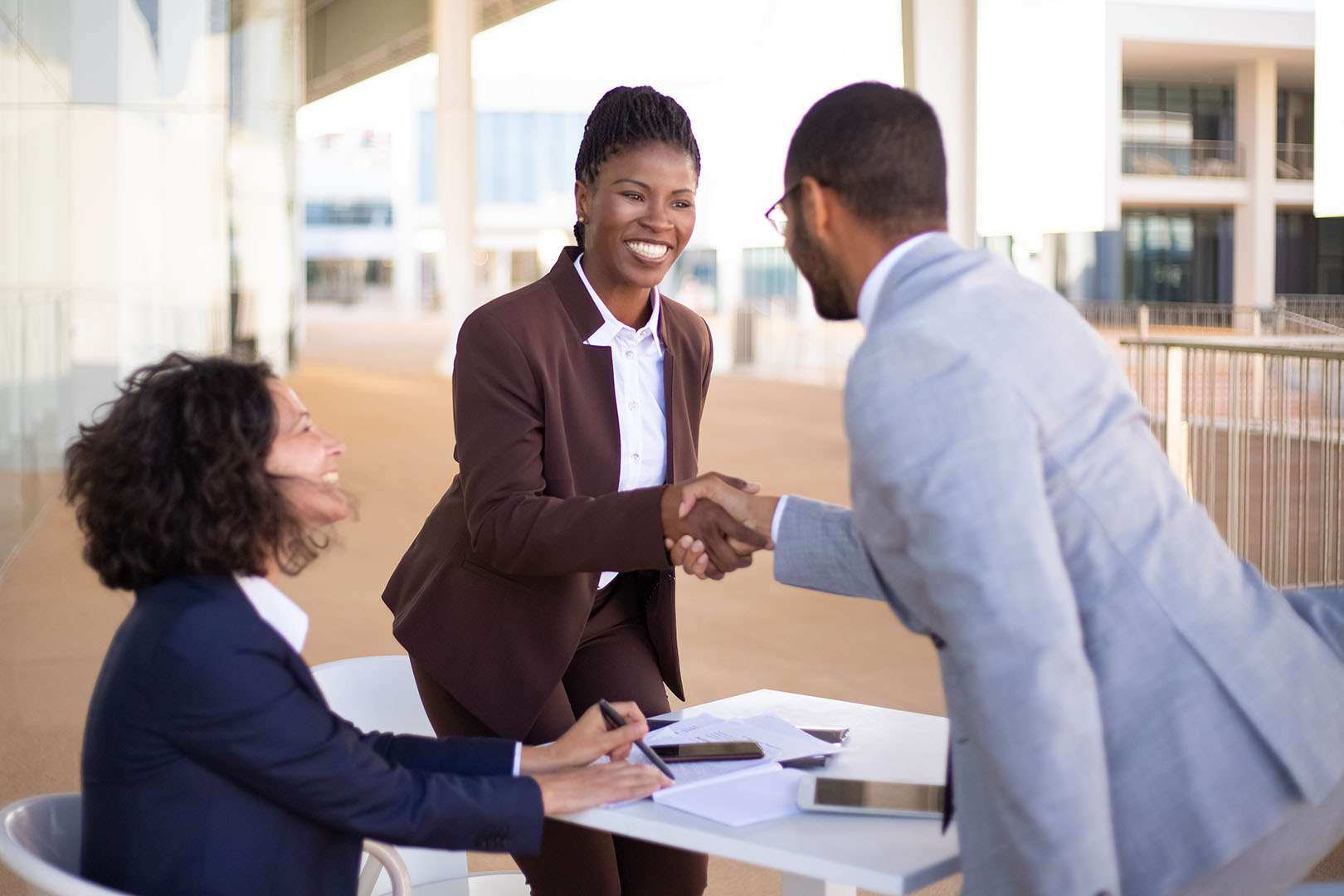 My rich text default content