mainblog-section
The pharmaceutical industry's growth over the decades has been driven by advancements in technology and R&D, as well as by the increasing need for preventative care and treatment options.
That growth continues. The global pharmaceuticals market is expected to exceed $1.1 trillion in 2022, according to data collected by Statista. And by 2027, industry revenue should exceed $1.5 trillion based on an estimated compounded annual growth rate of over 5%.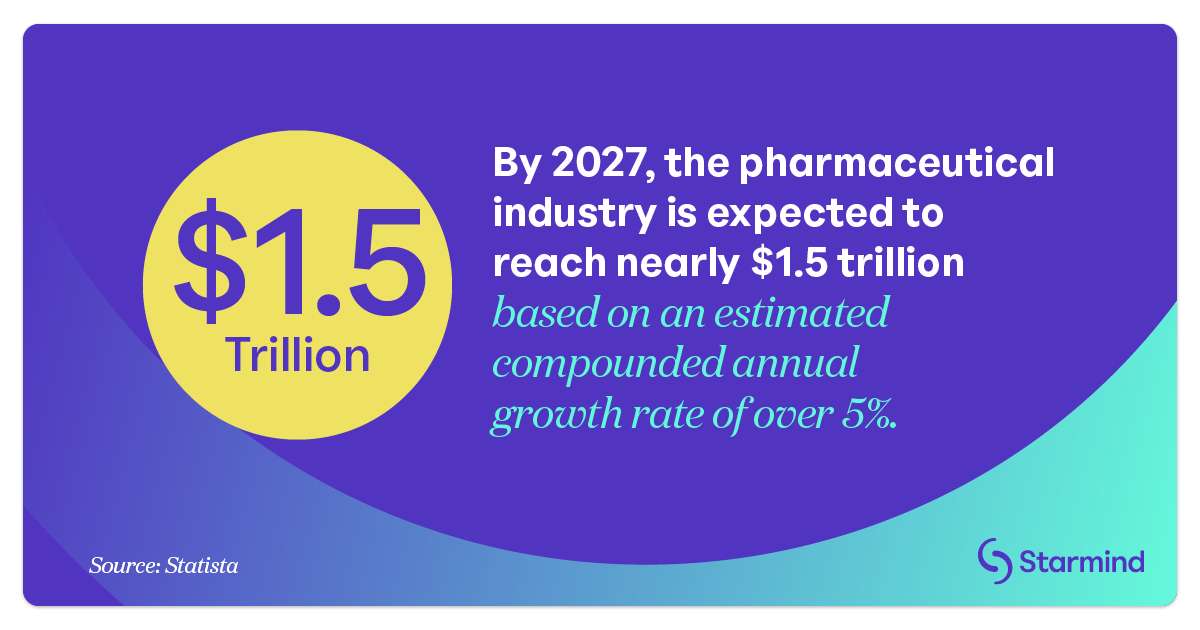 This growth is made possible through extensive collaboration by teams, through partnerships and even with competitors. Developing new solutions to the world's most challenging and complex medical and scientific issues requires more than casual engagement and trivial communication. These teams need to be able to exchange complex ideas and technical information effectively. They also need real-time access to the latest and most accurate information available.
Time is precious, as speed to market for medicines can be a life-or-death concern for the people who can access them. Of course, faster innovation that produces high-quality results is beneficial for businesses, too. Innovation and speedy time to market expedite the return on investment, create competitive advantages and reduce the expenses associated with longer R&D processes.
By evolving your approach to knowledge management, you can encourage collaboration, streamline your R&D processes, get to market faster and provide vital help to those that need it most.

Download Now: How AI Boosts Innovation in the Pharmaceutical Industry [NEW GUIDE]
How Is Knowledge Management Used in the Pharmaceutical Industry?
The pharmaceutical industry is incredibly knowledge-intensive, and each function relies on knowledge sharing and access in distinct ways.
R&D teams use knowledge management to collaborate, conduct research and create solutions for significant problems. Sales teams use it to educate potential customers about the value they offer. Marketing and PR teams share knowledge about the company's latest updates and breakthroughs with clients, third parties and the public. Executives who oversee broad areas of the enterprise and need access to a wide range of knowledge and a network of colleagues and peers.
Knowledge Management's Role in Quality by Design
Effective knowledge management also helps companies successfully implement quality by design (QbD). This is a science- and risk-based "approach to development that begins with predefined objectives and emphasizes product and process understanding and process control, based on sound science and quality risk management," according to the ICH Q8 guideline.
Pharmaceutical QbD is based on the concept of continuous improvement, a practice that leads to a constantly improving supply of safe and effective products. QbD also emphasizes manufacturers' need to increase their knowledge and understanding of products as they progress through their life cycles.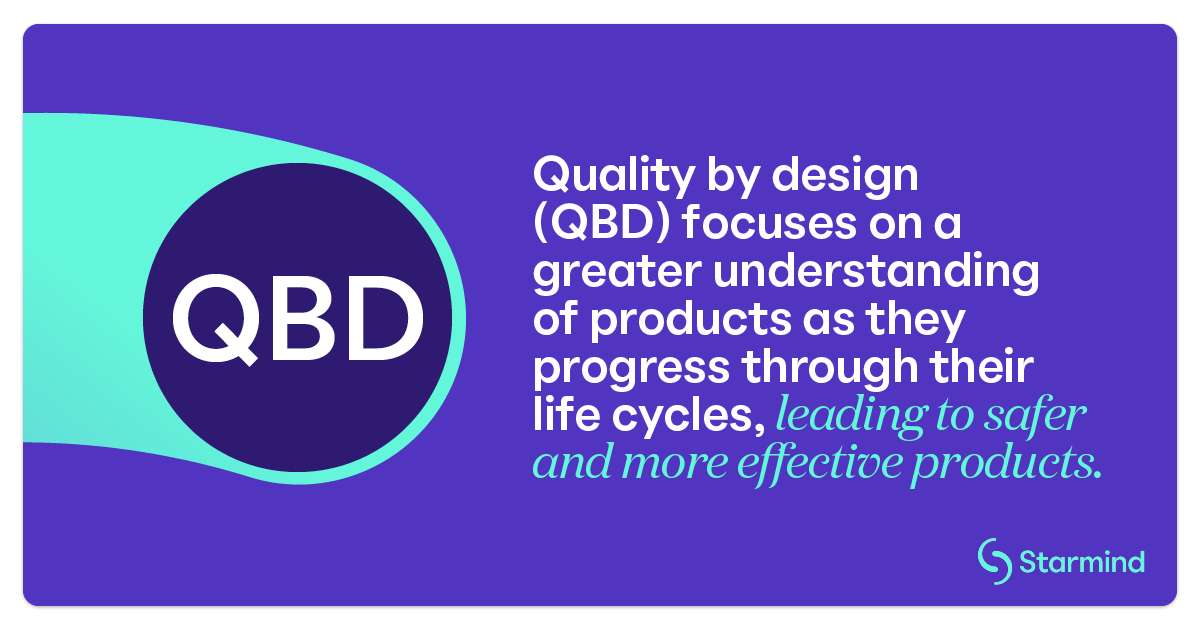 Having this knowledge maintains high quality levels, provides a greater understanding of product risks and gives insight into how these risks should be managed.
When your enterprise has a central location for all knowledge and data associated with a project, that information is easily accessible for all your employees. They can make faster, better-informed decisions and improve the quality of the final product.
What Are the Core Knowledge Challenges Pharmaceutical Professionals Face?
In 2021, global pharmaceutical R&D spending was about $238 billion, an increase of nearly 75% from 2012, according to Statista. While this dramatic increase in funding contributed to key advancements, it also brought new challenges for companies.
One of the most significant challenges is the costs associated with bringing new products to market. According to a study published in Jama Network that looked at 2009-18, the average R&D cost incurred in bringing a new drug to market was about $1.1 billion.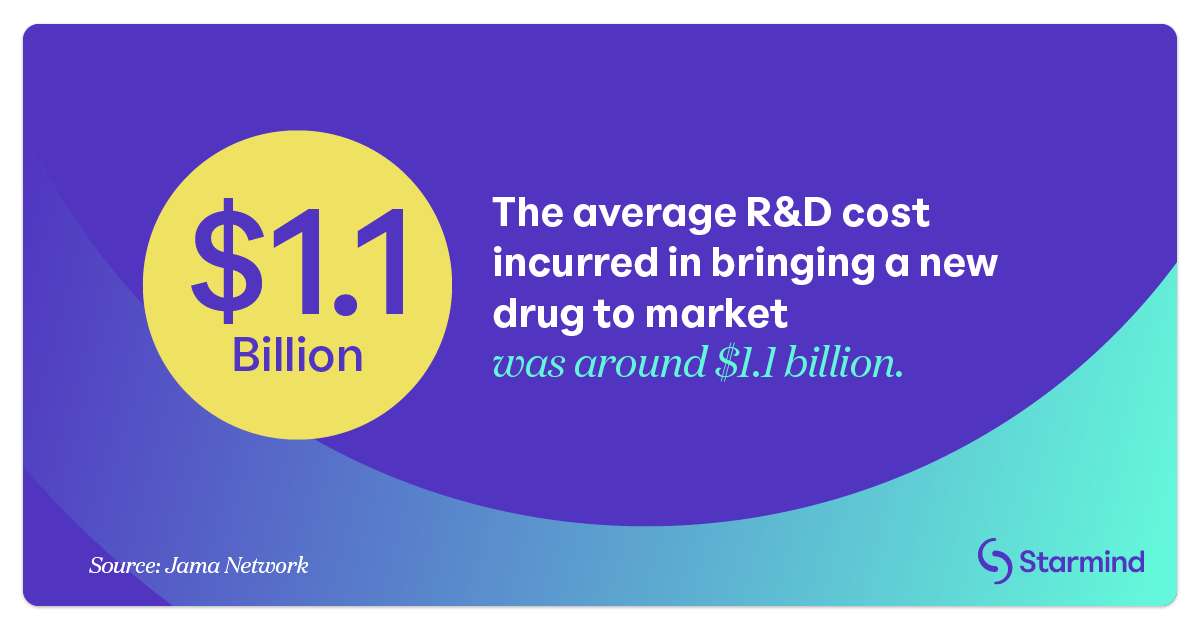 The length of your R&D cycle can mean the difference between solidifying or squandering first-mover advantage. Companies can waste millions or even billions of dollars, along with years of work, because a competitor made it to market first.
The COVID-19 pandemic caused massive disruption throughout the industry, including health concerns, product shortages and other supply chain issues. The pandemic also delayed many clinical trials. As companies make up for lost time, they're also faced with growing demand from consumers for faster, better and cheaper products.
The pharma industry is also adapting to a cultural shift from treatment to prevention. While this shift indicates a positive change in consumer awareness, some companies will see reduced demand and funding for certain R&D projects.
Through all of this, the pharmaceutical industry is challenged to collect, manage and access the vast amount of information in its ecosystem. Besides the breadth and depth of available knowledge, companies face rapid shifts in the landscape that require real-time access to current, accurate information.
How a Knowledge Management System Drives Collaboration and Growth
A knowledge management system like Starmind can help solve many of the most common challenges facing pharma companies.
A modern knowledge management system allows you to obtain, store and share all of the knowledge across your enterprise in a central place. This makes it easy for employees to find and access the information they need to do their jobs while encouraging collaboration, idea sharing and knowledge contribution.
Your team's efficiency will improve when employees have quick, easy access to a knowledge base with access to inaccessible knowledge and subject matter experts who can address outstanding questions or issues. Employees can also contribute their knowledge, which is especially important for R&D teams seeking to avoid duplicative work or a reliance on outdated information. This exchange of knowledge and ideas fosters innovation across the enterprise and discourages data silos.
Knowledge management systems enhance your R&D efforts and time to market providing employees with the knowledge and resources they need to develop new products faster and more effectively.
Here is an examples of how companies are using modern knowledge management to drive stronger R&D results while saving time and money.
World's largest biotech company
One of the world's largest biotech companies needed a way to tap into the knowledge and experience of their massive employee base and identify experts who could provide key information and streamline processes.
Starmind helped them create a knowledge network that empowers teams to share knowledge more effectively and efficiently. This has improved collaboration for the global and digitally minded company and benefited patients affected by this work.
They with a pilot program, but the initial success of each project has led to tens of thousands of additional users within the organization.
How to Improve Your Knowledge Management Process
Modern knowledge management includes a focus on documented knowledge, which is only a small portion of the overall knowledge within organizations. Employees learn through their experiences, but that knowledge stays inside their heads unless there's a need to share it. In fact, up to 80% of organizational knowledge is undocumented, or tacit.
While you might not have a formal knowledge management strategy, you already have processes for sharing and managing knowledge. The question is, how effective are those processes? Our survey results show that employees' chief complaint about knowledge sharing is the amount of time it takes them to find an answer. Employees can lose hours every day trying to find information to do their jobs.
Optimizing your knowledge management process will improve efficiency and productivity, encourage collaboration and foster innovation, drive stronger performance, and reduce or eliminate many expenses.
To realize these benefits in your enterprise, you must capture and organize existing knowledge and make it easy for your teams to access it. Make sure your knowledge base also empowers employees to raise questions and connect with subject matter experts who can provide additional knowledge about a specific topic.
A knowledge management system can put an end to endless searching and give your team more time to focus on their work. To do this, you need a system that can help your enterprise today and evolve with you. Look for a scalable solution that's intuitive and accessible at any time and from anywhere.
Starmind helps your team members connect to expert knowledge from anywhere in your business, whenever they need it. By using the power of AI to augment your employees, you give them access to a real-time network of knowledge. That access helps teams do their best work, especially when they're trying to get key information as part of a groundbreaking pharma R&D project.
Learn more about how your enterprise could save millions of dollars each year while increasing speed to market.
Sign up to receive latest stats, insights and events
Download Now: How AI Boosts Innovation in the Pharmaceutical Industry [NEW GUIDE]
AI is transforming the pharmaceutical industry. Get ahead of your competitors. Learn about:


How AI can save your R&D team time and money.
Ways AI is speeding up drug discovery and development.
Tips for integrating AI into R&D.

Real-world examples of successful AI-powered initiatives in pharma.
Download your guide today!
My rich text default content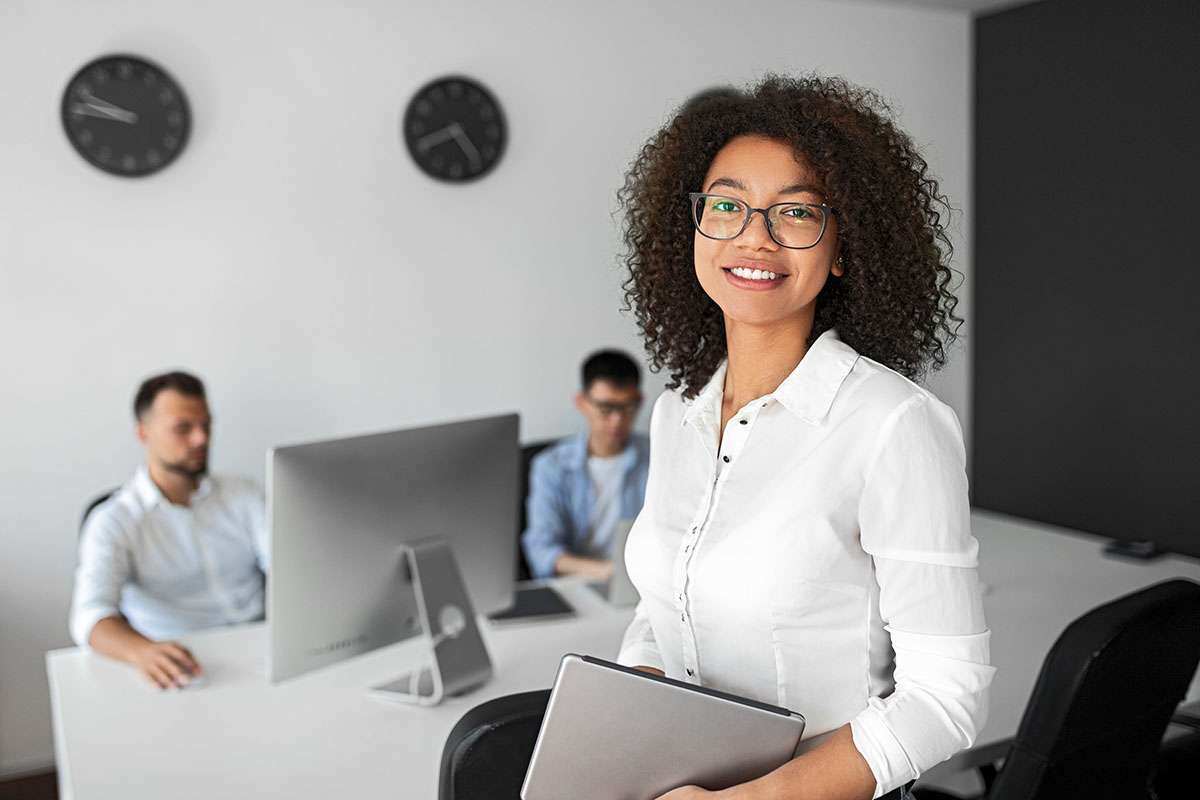 My rich text default content