The rapid development of technologies, including deep learning and other AI algorithms, results in the growing demand for skilled employees in these areas. This demand is emerging faster than the job market can sustain. Corporations worldwide will be facing an increasing challenge to find and secure hires who have the right skills.
A key solution to bridge the shortage of qualified employees on the job market is building on existing skills within the company. Big consulting companies consistently advise corporations to focus on internal education and internal recruitment strategies.
The challenge of upskilling and reskilling of current employees starts with understanding which skills a company has, which skills are missing and how to fill in the gap.
Starmind's unique solution uses human-centered AI to identify experts, access tacit knowledge and solve skill gaps. First, it provides detailed insights into the skills and capabilities of the company's workforce. Second, it connects people looking to answer a specific question with experts in the company who are best positioned to help. Starmind's solution ultimately works to break down knowledge silos in large enterprise organizations, document tacit knowledge, enhance knowledge sharing and put experts in the spotlight.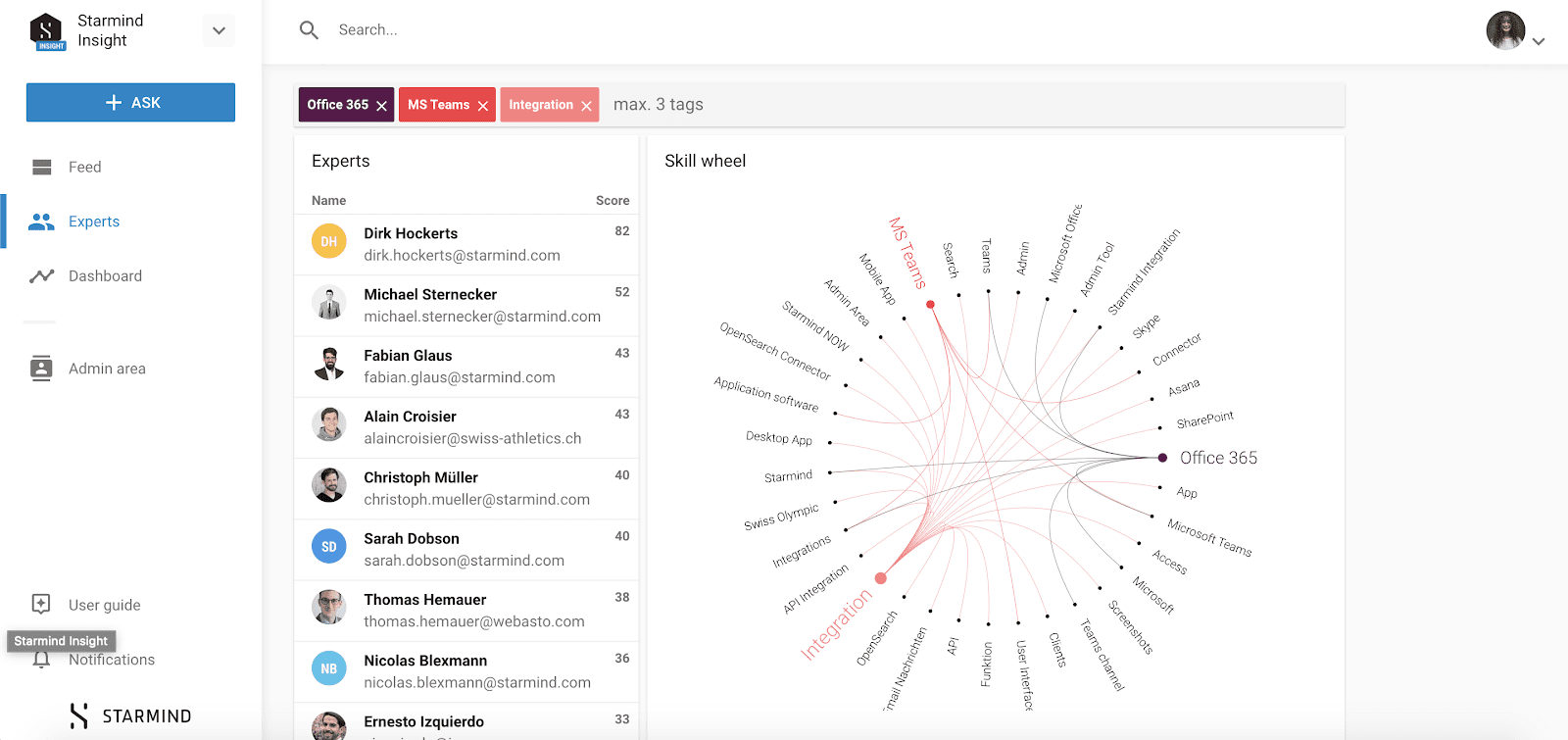 To create accurate, real-time employee skill profiles, Starmind automatically analyzes public information contributed by employees in various software tools within the company. For this purpose, Starmind leverages patented algorithms to make the expertise of the employee transparent based on public communication and documents in the tools.
Whenever personal data is analyzed, data privacy and security are of paramount importance. As Starmind exists to make human capabilities visible within organizations to the benefit of both the employee and the organization, our solution only analyzes data from publicly accessible interactions within the organization.
The analysis required to create accurate skill profiles that highlight individual employee's expertise is done completely transparently. By understanding each employee's individual expertise and knowledge, Starmind is able to make this knowledge visible and easily accessible in an automated way.
To ensure data privacy and security regulations are always met, Starmind is always up to date on the latest changes in legal norms. EU legislation, including GDPR, and local laws and regulations, continually update their data privacy requirements.This includes specific requirements about being transparent to the individuals on which data is processed, how this data is used and how they can exercise their rights.
Within Europe, besides the data privacy aspect, the requirements of workers' councils (especially in Germany) have to be fulfilled to ensure that the workers' council approves the use of the solution in the company. Starmind supports customers by providing all the required documentation and legal templates to fulfill requirements. This approach was worked out and iteratively improved based on the years of experience Starmind has with German customers.
Companies worldwide transition to using more and more cloud services. In return, cloud services must prove that they can provide services in a privacy-compliant way and satisfy their customers' high standards on security. We will elaborate on each of the topics discussed above in more detail in the following blog updates.
To learn more about how your company and employees can benefit from privacy-compliant skill profiles and on-demand knowledge sharing, get in touch with one of our experts.
---
Ilya Vasilenko has a background in Computer Science with two master degrees in Natural Language Processing and Distributed Systems. After spending over 10 years working in different companies as a software engineer, team lead, scrum master and product manager, he switched to the area of data protection. He holds valid IAPP certificates (CIPP/E, CIPM, CIPT) and specializes in leading a comprehensive compliance program covering general data protection practices as well as in the areas of data anonymization, telecom data and AI including automatic decision making.
As the Global Risk & Compliance & Data Protection Officer for Starmind, Ilya leads Starmind's Privacy Compliance Program and the process of privacy and security certifications of Starmind.