Innovation is one of the most powerful engines of sustained growth, and companies spend vast amounts of time and money pursuing it. But how do you encourage innovation in a fast-paced enterprise environment while giving your teams enough time to produce high-quality results? Begin by creating a culture of collaborative innovation where teams work together to solve problems more efficiently.
Innovation starts with your people, as every business depends on employee knowledge and ability to complete projects and tasks. And while exceptional individuals can do great things, most breakthroughs occur when teams and groups work together. Companies need structures that reflect this reality and uphold collaborative innovation principles.
Research shows that nearly nine in 10 employees feel happier at work when they share their knowledge and help others. A culture of open communication and collaboration helps employees share knowledge, demonstrate their worth, feel a sense of purpose and be recognized for their value. A positive employee experience, sufficient resources and knowledgeable colleagues can remove barriers to innovation. By prioritizing collaborative engagement, you can foster an environment of knowledge sharing and problem-solving that fuels innovation.
Inspiring a cultural shift takes time, planning and effort, but success can mean years of transformational competitive advantage. Learn more about collaborative innovation and what you need to implement it.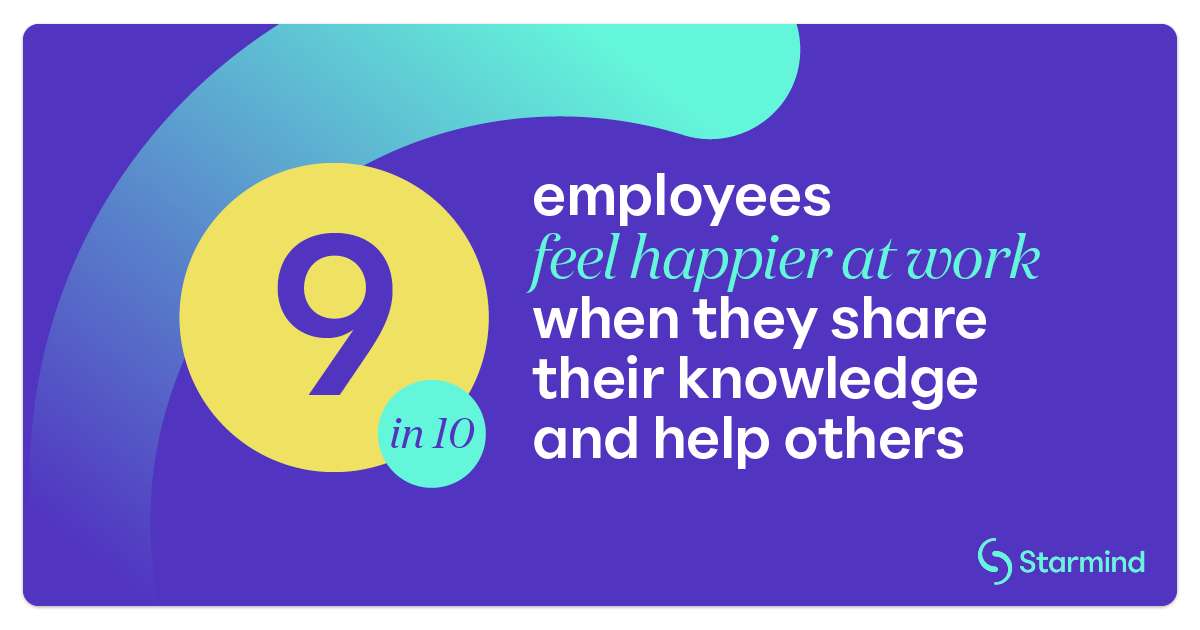 What Is Collaborative Innovation?
Collaborative innovation is the process of multiple employees or teams combining their knowledge, skills, experience and resources to create or improve upon a solution for a common benefit. Innovation almost always involves collaboration, but collaborative innovation empowers your top-performing employees, regardless of their role or function.
For example, consider a new research and development (R&D) project that can benefit from the R&D team working closely with sales and customer experience teams. The unique experiences and tacit knowledge each of these groups possesses can inform the project's needs and help everyone understand market conditions.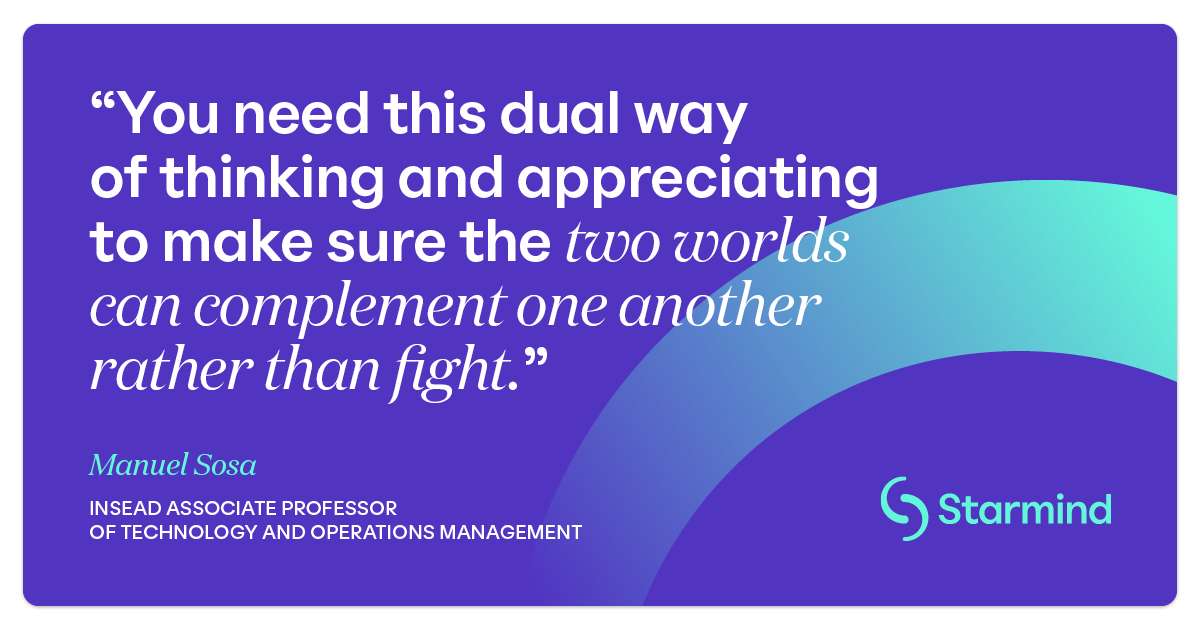 Why Does a Collaborative Innovation Mindset Matter?
A collaborative innovation mindset embraces change and growth through partnerships and knowledge sharing. It encourages transparency and supports strategic alignment and team collaboration by focusing on teamwork and communication. This mindset also helps you consider your goals and how to achieve them.
Organizations that embrace collaborative innovation are more open to new concepts, perspectives and collaboration ideas, even if it's simply considering an existing problem differently. They also think about each team's strengths and how they collectively contribute toward the shared objective. Designers, for example, can create a product for a specific use case, while project managers ensure the project stays on track and within parameters.
"You need this dual way of thinking and appreciating to make sure the two worlds can complement one another rather than fight," says Manuel Sosa, INSEAD associate professor of technology and operations management.
Here are three core benefits you can realize from collaborative innovation within your organization.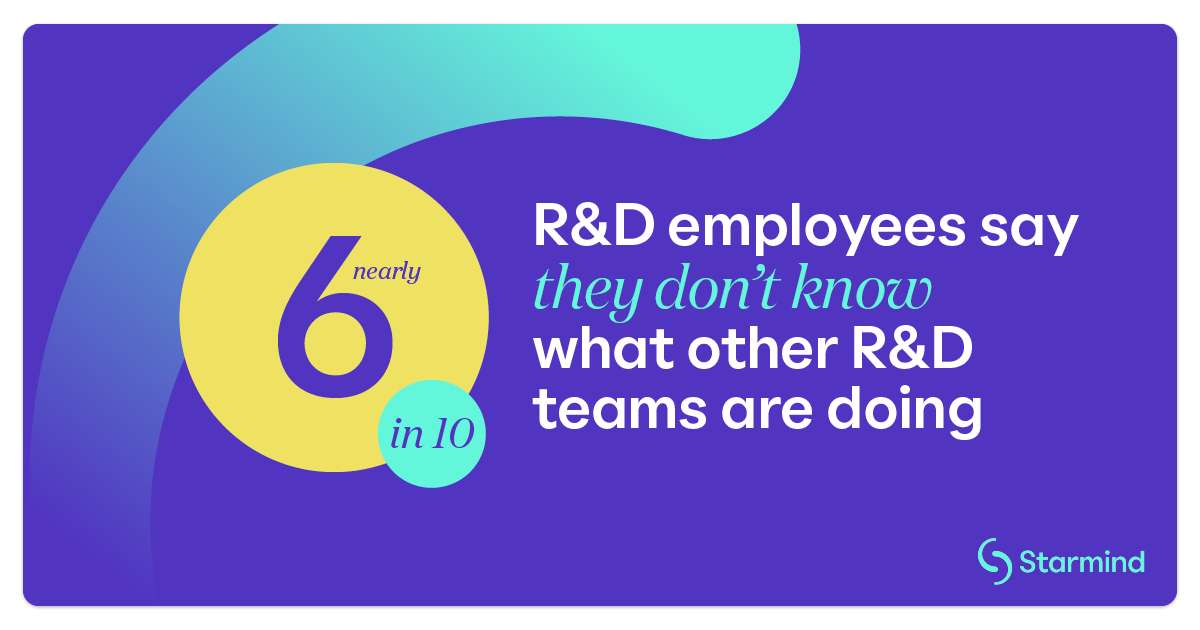 Improves Productivity
Nearly six in 10 R&D employees say they don't know what other R&D teams are doing. This leads to teams "reinventing the wheel" instead of expanding upon existing work, which wastes time and resources.
Your team needs easy access to collective knowledge and expert colleagues to avoid duplicative work. Modern knowledge management approaches also encourage collaboration and knowledge sharing, which improves productivity and helps your teams innovate faster. Teams can share insights to solve problems more quickly without silos forming.
Helps With Skills Development
Your employees are your greatest asset, and developing their skills allows them to resolve issues on their own and achieve greater results with less support. Collaboration exposes teams to a variety of skills and knowledge they wouldn't encounter otherwise. Capturing and transferring knowledge can also highlight knowledge gaps and lead to additional training opportunities.
Accelerates Learning Cycles
Your teams need regular opportunities to ask questions, learn and discuss best practices. This process must be efficient so employees have sufficient time to focus on their core work. A collaborative innovation mindset encourages employees to seek each other's counsel and elevates your most knowledgeable employees as experts who can help teams answer burning questions.
The Key Elements of Innovation
Innovation is born from combining strategy, mindset and people, but many elements go into the process. Let's examine these key concepts and how they apply to innovation.
Collaboration
Collaboration saves time, combines resources and can help teams gain a fresh approach to existing problems. Collaboration is more than people simply working together. It's a coordinated effort to bring together team members with varied expertise and backgrounds, helping them combine their knowledge and experience against complex problems. In many cases, innovation that would be impossible with an individual or like-minded group is unlocked with collaborative work.
Ideation
Innovation starts as an idea. Your ideation process is critical for generating concepts, hypotheses and projects, as well as for refining those ideas. Without ideation, you can't innovate because you're working off the status quo.
According to Azelea Coaching Advisory, an effective ideation process will help you:
Illustrate obvious solutions so you can focus elsewhere.
Ask good questions and design with a focus on what the end user needs.
Combine employees' strengths and distinct perspectives.
Discover the unexpected.
Create a variety of options to explore further.
Implementation
Innovation is a form of problem-solving, but without proper implementation, you can't offer solutions at scale. While innovation is the realization of something novel, the process behind it doesn't need to be random or ad hoc.
After identifying business opportunities to explore, your implementation must prioritize those areas and offer support. Establish structured, repeatable processes that focus on progress and accountability. Test solutions, and regularly review performance and results. Doing so allows you to properly assess, learn from and revise your efforts.
Value Creation
One of the essential elements of innovation is the value it creates. Value can mean solving a new problem, incremental improvements to existing products or reducing the time, cost or labor associated with something. Innovative projects create value by definition, but your team also must be able to communicate that value add internally and to potential customers.
How Do You Create a Culture of Collaborative Innovation?
Create Transparent Processes
Open, transparent processes help with alignment, improve productivity and even contribute to employee satisfaction. It's important for each employee to understand their role, responsibilities and how they contribute to project and company goals. Not every employee needs every detail, but they should receive updates and be able to ask questions or raise concerns.
Implement the Right Tools
Even the most collaborative and innovative teams need support. One way to support teams is by helping them communicate and share knowledge. For example, a modern knowledge management system can connect the right people to the right knowledge whenever they need it. Innovative teams don't have time to waste searching for information.
Form Ideas Using a Specific Method and Clear Purpose
You can't predict when or where your next big idea will come from. You can, however, adopt a specific method for creating ideas and establish a clear purpose that drives your decisions. This gives you greater control over your innovation processes and aligns projects and teams with the overall strategy.
Support Disruptive and Incremental Innovation Ideas
Innovation can be wholly novel or an incremental improvement on what already exists — both are worthy avenues for innovation. Product and service improvements, automation and reducing waste are all incremental innovations that appeal to a wide range of customers and stakeholders. Focusing on this type of innovation can also help create a controlled ideation process that follows your established method and purpose.
Leverage the Collective Intelligence of Employees and Decision Makers
The knowledge living within your enterprise can help solve your most pressing challenges, but accessing that knowledge can be a challenge. Most knowledge is undocumented, and employees can struggle with where to find accurate, up-to-date information. Provide a central source of trusted information that allows your teams to easily access the organization's collective intelligence.
Break Down Organizational Silos
Many employees naturally collaborate within their teams but don't necessarily make connections with the rest of the organization. This leads to limited communication and knowledge sharing, ultimately creating organizational silos. A collaborative culture encourages broad knowledge sharing where teams can request and offer support from anywhere in the organization.
Reward Teamwork
Collaborative innovation inherently depends on teamwork, and your culture greatly influences whether people default to teamwork or see it rewarded. While monetary or tangible rewards are one option for recognizing teamwork, many other forms of recognition can also reinforce the behavior and encourage others to follow suit.
Collaborative Innovation Examples
Collaboration can be internal or external. This means collaborating partners can come from different departments or even other organizations. Here are a few examples of innovation partners collaborating to create new or improved solutions.
Microsoft and Intel
In the early 1980s, tech companies Microsoft and Intel formed a partnership for collaborative innovation in the personal computer market. The relatively new industry was complicated and expensive for average consumers to enter, but the collaboration aimed to create new opportunities for the businesses and their customers. By combining the powerful microprocessors developed by Intel with the user-friendly design of the Windows operating system, the companies created an alliance that led to decades of market leadership.
Pfizer and Merck
In 2013, healthcare giants Pfizer and Merck entered a worldwide collaboration agreement to develop and commercialize an investigational medicine for type 2 diabetes. According to Pfizer senior leadership, the collaboration allowed the companies to leverage Merck's top position in diabetes care with important discoveries by Pfizer scientists.
The combined resources and work of the two companies allowed for faster innovation and production. This meant patients could receive necessary medicine and improved health care faster without sacrificing quality or adding unnecessary costs. Meanwhile, both organizations benefited by contributing less in resources than they would alone while each realized a share of the returns. The companies have continued finding points of collaboration, including extensive work in oncology.
PepsiCo R&D
PepsiCo R&D wanted to change how its employees worked, and the company knew it needed a better knowledge management strategy to enable collaborative innovation. After partnering with Starmind, PepsiCo R&D could expedite innovation and improve decision-making through effective knowledge sharing and collaboration.
Not only did Starmind make it easier for PepsiCo R&D team members to capture and share technical knowledge, but it also saved time. Teams could quickly find information or connect with subject matter experts that could offer insight and assistance. These advancements spurred innovation and led to a faster time to market, creating a competitive advantage for the company and increasing return on investment.
How Effective Modern Knowledge Management Improves Collaborative Innovation
Collaboration is one of the strongest opportunities for companies to make the most of existing resources and produce quality results. Establishing a mindset and culture of collaborative innovation sets the stage for better productivity and outcomes. These benefits aren't limited to R&D teams, as innovation can create positive impacts throughout your enterprise.
PepsiCo R&D's case study makes it clear that effective knowledge management improves both collaboration and innovation. When teams feel supported, they are more engaged and comfortable approaching challenges and obstacles. Communication and access to information can be improved, leading to more robust and faster results. Teams with easy access to knowledge and resources can collaborate more effectively and solve problems that a single person or team couldn't address.
A modern knowledge management approach helps you create the conditions for innovation and collaboration. When your people can access the information they need without encountering silos or needing to reinvent the wheel, they can focus on their most important work. The next groundbreaking discovery awaits teams that can create the culture and processes to support collaborative innovation.
Cross-functional collaboration can also help break down knowledge silos and identify subject matter experts. Learn how to encourage cross-functional collaboration across the enterprise.
Sign up to receive latest stats, insights and events
Speak to an expert talk
We're always ready to help, with support tailored to your business needs. Schedule a call with one of our team to:
Learn more about how Starmind can connect knowledge across your business.
Discover the use cases that best fit your needs.
See how you can bring all of your company's knowledge into one central platform.
Discuss your bespoke pricing package.