Eat. Learn. Know.
Accelerate R&D Collaboration and Speed-to-market
How shared tacit knowledge will boost your competitive Advantage



In competitive industries, speed-to-market is a critical differentiator.
The ability to deliver new innovative solutions enables companies to catch consumer trends as they emerge, put competitors on the back foot, increase quality and drive down costs. Inaccessible knowledge slows down your cross-functional collaboration, increasing development costs.
Join our Chief Customer Officer, Ronan Kirby, to discover how modern knowledge management can support your distributed R&D teams to speed up innovation and win market share.
In this webinar, you will learn how AI-powered knowledge management can:

- Break down organizational silos and improve decision making
- Simplify access, retention and transfer of tacit knowledge
- Release new products or solutions with greater agility


Rethinking the way your enterprise manages knowledge takes time and energy, that's why we would like you to have lunch on us, so you can refuel and make the best decision for your enterprise and employees. All attendees that comply with our terms and conditions will receive a $20 voucher for Uber Eats.
This event has already taken place. Fill in the form below if you would like to discuss your specific business needs with one of our consultants.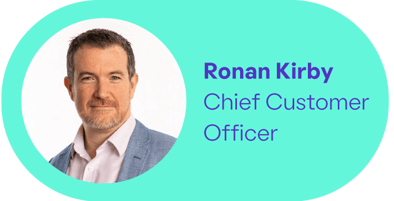 Our Chief Customer Officer, Ronan, is a seasoned C-Level sales and marketing leader with a history of scaling and transforming high-performance, go-to-market organizations worldwide. As an experienced sales leader, he understands how improving time-to-market is essential in order to offer innovative solutions to customers quicker and to become industry leaders.