Eat. Learn. Know.
Win More Business and Increase Sales Efficiency
How shared employee knowledge will empower your sales team




Salespeople spend close to 65% of their time not selling.

The majority of their time is spent searching for internal experts to access the information required for an effective customer meeting.

A knowledge management strategy that supports your sales teams with on-demand knowledge and experience can give your team an extra edge to boost productivity and increase sales.

Join our Chief Customer Officer, Ronan Kirby, to discover how modern knowledge management can support your sales reps to win more deals, close them faster, and unburden internal experts.
In this webinar, you will learn how AI-powered knowledge management can:

- Increase your sales productivity
- Ensure the most reliable & knowledgeable information is shared
- Reduce the response time for customer inquiries

All attendees that comply with our terms and conditions will receive a $20 or 25 CHF/€ or voucher for Uber Eats.
This event has already taken place. Fill in the form below if you would like to discuss your specific business needs with one of our consultants.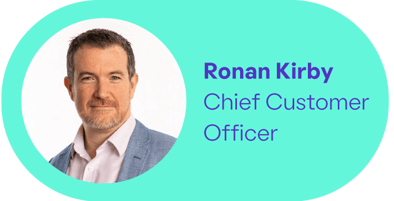 Our Chief Customer Officer, Ronan, is a seasoned C-Level sales and marketing leader with a history of scaling and transforming high-performance, go-to-market organizations worldwide. He previously served as President & General Manager, EMEA of Kaseya, a leading IT and security management company and is also the former Vice President of NGINX, the software behind many world leading apps and sites. As an experienced sales leader, he can understand and relate to the challenges experienced in customer-facing teams, and he is committed to uncovering solutions that benefit the team and customer.