WHITEPAPER

Building a Knowledge-Streaming Enterprise for Turbulent Times
Remote work is here to stay. But distributed workers still suffer significant productivity lags due to lack of confidence of accessible information, limited support, too many channels or sources for knowledge, and highly siloed and disconnected organizations.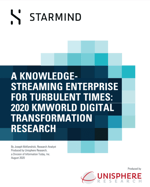 Download this new in-depth digital transformation research report, with input from over 200 respondents, and learn the four key changes on the horizon to help you make data-driven decisions for the future of work.
Register now to receive the research report and access to the on-demand webinar.